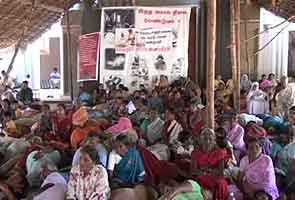 Chennai:
With the Prime Minister announcing that the Kudankulam plant will be operationalised in a couple of weeks, at Ground Zero, villagers have begun a huge protest rally, from Kudankulam to nearby Radhapuram in Tamil Nadu.
Around ten thousand villagers are protesting at the site of the Kudankulam nuclear power plant demanding removal of uranium from the site.
"If the Nuclear Power Corporation of India or the Department of Atomic Energy tries to restart the work at the Kudankulam nuclear plant, we will lay a siege with thousands of people and their families immediately at the site, and number two in order to protest against PM's statement made in Russia we are going to hold a rally from Kudankulam to Radhapuram," said SP Udhayakumar, Convenor, People's Movement against Nuclear Energy.
Dr Singh had, on Friday, said in Russia that the first unit of the Kudankulam nuclear power project will be operationalised in a "couple of weeks" and that the second unit will be commissioned six months later.
Chief Minister Jayalalithaa, on Saturday, wrote a letter to the Prime Minister saying she was shocked at his announcement. (
Read: Jayalalithaa asks PM to allay public fears
)
"I was amazed to see in the media that at a joint press conference with the Russian President you had announced that the Kudankulam Nuclear Power Project will be operationalised in a couple of weeks," she said in the letter.
Ms Jayalalithaa also asked the Prime Minister to allay public fears before any precipitate action is embarked upon. She added that according to a Cabinet resolution, work (at the plant) would remain halted till public fear is allayed.
Meanwhile, the Prime Minister has yet again said the commercial operation of the nuclear energy facility has been "overdone" and that the Rs 14,000-crore plant that came up over a decade "cannot be simply left idle".
However, an expert group appointed by the Centre had some time back concluded that the plant was safe and called the public fears unfounded.