Highlights
PM in Gujarat says "nobody can take law into their own hands"
There is no place for violence in society: PM Modi
Last week, Muslim teen killed on train after being called "beef eater"
Ahmedabad:
Prime Minister Narendra Modi
today said that the killing of people by cow vigilantes is unacceptable; hours later, a man was killed in Jharkhand for allegedly carrying beef and his van was set on fire.
"Killing people in the name of
Gau Bhakti
is not acceptable," said PM Modi. "No person in this nation has the right to take the law in his or her own hands in this country." While saying that protecting cows, sacred for Hindus, is needed - "No one spoke about protecting cows more than Mahatma Gandhi and Acharya Vinoba Bhave," he said - "this (violence) is not something Mahatma Gandhi would approve of."
Today's mob attack in Jharkhand comes two days after a Muslim man was attacked in the same state after a dead cow was found near his house, parts of which were set on fire by a mob.
PM Modi
last admonished
cow vigilantes nearly a year ago in August.
His remarks today were made at Mahatma Gandhi's Sabarmati Ashram in Gujarat, his home state, which votes soon, and a day after people across the country protested against mob attacks. Last week, a group of people on a train killed 16-year-old Junaid Khan, who was travelling home to his village in Haryana with his brother and two cousins after a shopping excursion to Delhi ahead of Eid.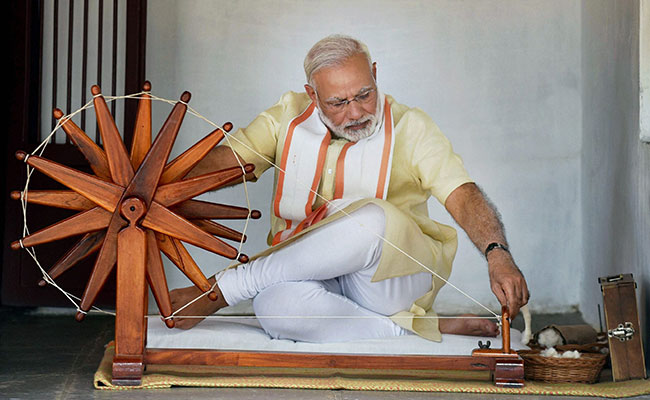 A group of about 20 men accused the teen and his companions of carrying beef in their bags and yelled religious slurs at them before they beat Junaid Khan and stabbed him to death. He was thrown off the train.
"What the PM has said is fine, but these people don't stop," said the killed teen's father, Jalaluddin Khan.
Before today, PM Modi had been targeted by critics for not condemning the growing list of attacks by self-declared cow vigilantes, many of them in states governed by his party, the BJP. In one of them, Rajasthan, a 55-year-old named Pehlu Khan, was beaten relentlessly in April for transporting cows for his dairy farm after his assaulters accused him of smuggling the cows illegally. He died of his wounds.
The opposition said that the PM's words are welcome, but the onus is on his government to ensure they result in action.
A series of steps taken by the centre and its state governments - like the introduction of new rules that restrict the sale of cattle for slaughter and the crackdown on abattoirs in Uttar Pradesh - is being seen as targeting Muslims, who dominate the meat trade.
Law Minister Ravi Shankar Prasad said earlier this week that the death of Junaid Khan was "
extremely shameful and painful
" and that such attacks would not be tolerated.
In August last year, the PM lashed out at those who he said "use the mask" of cow protecting to attack others.