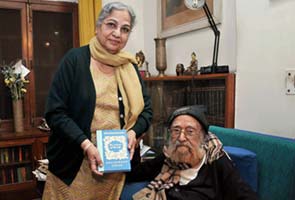 New Delhi:
The indomitable Khushwant Singh has come with another book on his 98th birthday in which he writes about his life, lessons it has taught him, politics, future of India and what religion means to him.
At a private ceremony to celebrate his birthday at his residence here yesterday, the veteran writer-columnist Singh presented the first copy of "Khushwantnama: The Lessons of My Life" to Prime Minister Manmohan Singh's wife Gursharan Kaur.
The book, published by Penguin Books India, is dedicated to Kaur who is a close friend of the author. It will hit book stores next week.
In "Khushwantnama: The Lessons of My Life", Singh, who has over the years enlightened and outraged his readers in equal measure be it with his humour or his sharp insights and observations, reflects on a life lived fully and the lessons it has taught him.
The author offers his views on subjects as diverse as old age and the fear of death; on the joy of sex, the pleasures of poetry and the importance of laughter; on how to cope with retirement and live a long, happy and healthy life.
There are also his reflections on politics, politicians and the future of India; on what it takes to be a writer; and on what religion means to him.
"Penguin Books India has had a long and wonderful association with Khushwant Singh. He has delighted generations of readers, and we are immensely proud to present 'Khushwantnama: The Lessons of My Life' on his 98th birthday," Hemali Sodhi, vice president (Marketing and Corporate Communications) of Penguin (Group) India, told PTI.
Mr Singh is regarded as one of India's best-known writers and columnists. Born on February 2 in Hadali, now in Pakistan's Punjab, he was the founder-editor of Yojana and editor of the Illustrated Weekly of India, the National Herald and the Hindustan Times. He is the author of classics like "Train to Pakistan", "I Shall Not Hear the Nightingale" and "Delhi". He wrote the novel "The Sunset Club" when he was 95. His non-fiction includes the classic two-volume "A History of the Sikhs", a number of translations and works on Sikh religion and culture, Delhi, nature, current affairs and Urdu poetry. His autobiography, "Truth, Love and a Little Malice", was published by Penguin Books in 2002.
"The Sunset Club" is an exploration of friendship, sexuality, old age and infirmity; a joyous celebration of nature; an insightful portrait of India's paradoxes and complexities.
Mr Singh was a Member of Parliament from 1980 to 1986. He was awarded the Padma Bhushan in 1974 but returned the decoration in 1984 in protest against the storming of the Golden Temple in Amritsar by the Indian Army. In 2007, he was awarded the Padma Vibhushan.