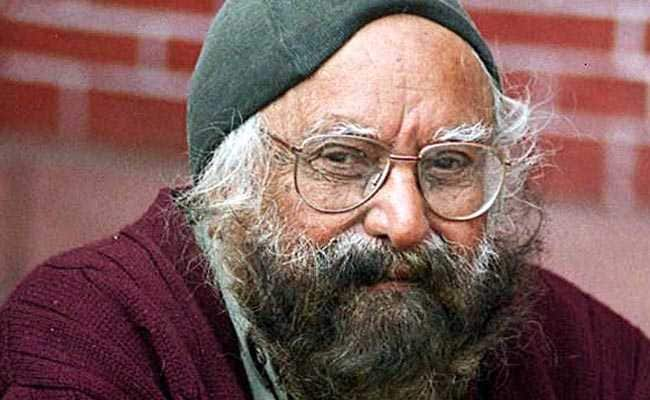 New Delhi:
Khushwant Singh, the celebrated writer, known for his sharp writings laced with wit, sarcasm and honesty touched chords with the readers. He changed his career from a lawyer to a journalist and also got into politics, but he is most remembered for his word craft. The noted author offered his views on subjects as diverse as old age and the fear of death; on the joy of sex, the pleasures of poetry and the importance of laughter; on how to cope with retirement and live a long, happy and healthy life.
On Khushwant Singh's 103rd birth anniversary, 10 facts about his life:
Khushwant Singh was born on February 2, 1915 in Punjab's Hadali (which now lies in Pakistan). His father, Sir Sobha Singh, was a prominent builder in Delhi.

He studied at Delhi's Modern School, Government College in Lahore, St. Stephen's College in Delhi and King's College London.

Before he took to writing, Khushwant Singh was a practicing lawyer at Lahore Court for eight years.

He then decided to change his career and became a journalist for All India Radio, popular journals and newspapers. He also worked in Department of Mass Communication of the UNESCO at Paris.

Not just that, Khushwant Singh also fitted in the political shoes as a member of Rajya Sabha, the upper house of the Indian parliament from 1980 to 1986.

He used to write novels, letters, essays and short stories. Some of his notable novels include: Train to Pakistan, I Shall Not Hear the Nightingale, Delhi: A Novel, Agnostic Khushwant: There is no God, Khushwantnama, The Lessons Of My Life. Among short stories, The Portrait of a Lady, A Love Affair In London and The Voice of God and Other Stories earned great popularity.

For his service to the country, Khushwant Singh was awarded the Padma Bhushan in 1974, but he returned it 10 years later in protest against the siege of the Golden Temple by the Indian Army in Operation Blue Star. He was later awarded the Padma Vibhushan in 2007.

He was also awarded the Punjab Rattan Award by the government of Punjab and Honest Man of the Year by Sulabh International, among many others.

On personal front, he was married to Kawal Malik and the couple had a son and a daughter.

Khushwant Singh died at the age of 99 on March 20, 2014 at his Delhi home.