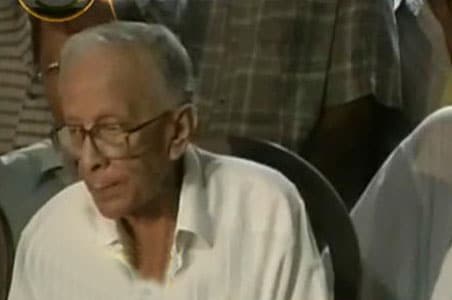 New Delhi:
NDTV takes a look at some of the key moments of Marxist patriarch Jyoti Basu's life.
1914:
Jyoti Basu is born in Kolkata
1940:
Joins Communist Party
1964:
Becomes member of the first CPM politburo
1967:
Becomes deputy chief minister of West Bengal
1977:
Sworn in as chief minister of West Bengal
1992:
Babri demolition dilutes Left's anti-Congressism. Basu calls the BJP barbarians
Walk The Talk quote:
Advani, I know. V P Singh sent me to him before the break-up of the government saying please prevent him from this rath yatra. I went to his house, I sat there, argued with him. He would not agree. And again, he's started this rath yatra. And thousands were killed at that time. What they're doing is certainly barbarian.
1996:
Becomes chief minister of West Bengal for the fifth time
Coalition United Front Government offers prime ministership. CPM vetoes proposal
Walk The Talk quote:
''Congress itself agreed that it will support the United Front from outside. So we accepted it. Only in my party, there was division.''
Turns down PM's chair
Walk The Talk quote:
I still think it was a historic blunder. Why historic? Because such an opportunity does not come. History does not give such opportunity. Knowing who I am - a Marxist, a Communist, in the party here, for so many years I've been in politics, they invited me because they had no other prime minister in view. So we thought that even if we last for one year in that coalition with myself as the prime minister and our party joining it, then people would understand backward sections of the people. In many places, they don't even know us. What we are all about.''
Controversial comment on Sonia Gandhi's foray into politics
Walk The Talk quote:
When she first joined politics, I said I had known her from earlier times when Rajiv was there. I had dinner, lunch and all that with them and she was a housewife. But housewives also (laughs) have the right to come into politics.''
2000:
After 23 years of chief ministership, quits post
Kolkata quote:
Every individual has a role to play and I think the role that I have been asked to play, I have played efficiently. That has been recognised by the party, and I am happy about it.
2004:
In Kerala, West Bengal Assembly polls, Left defeats Congress. In Lok Sabha polls, Basu crucially backs the Left's alignment with Congress
Walk The Talk quote:
In any case, looks like a hung Parliament may come off. And then, parties have to sit together, non-communal parties on the one side, communal parties on the other side and then decide on the minimum programme, on which we lay a lot of stress, it has to be there. I feel that BJP will go down. Their numbers will go down. Congress will come up.
2008:
Basu says Subhash Chakraborty needs to be made a member of the Central Committee and then apologises for breaking party discipline
2009:
Last public appearance on his 95th birthday