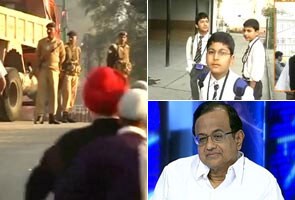 Srinagar:
It was a big day for kids in the Kashmir valley with schools reopening after a 100 days. The attendance was nowhere near 100 per cent perhaps because of hardline separatist Syed Ali Shah Geelani's call asking parents not to send children to schools.
But at least the schools were all open.
"I have come to school after three months," said Huzaifa, an excited student.
"There is fear, but we have to go the school. Without school our life is getting disturbed," said another student.
There were three incidents of stone-pelting at school buses but more damage was done by rumours of firing - that schools have been attacked and set on fire.
At Srinagar's prestigious Burn Hall, the Principal said 30 per cent children attended classes which the government says was the average for urban areas.
In rural areas the attendance was better, almost 80 per cent.
"In some places miscreants threw stones on students and tried to harass them. They tried to resist the opening of schools. Despite this students came and schools were opened," J&K Education Minister Peerzad Mohammad Sayeed said.
Home Minister P Chidambaram issued a stern warning to stone-pelters, after a few incidents of stone-pelting on school buses were reported.
"There was a call by one of the Hurriyat leaders to parents asking them not to send their children. Happily, parents have disregarded that call. There were a few minor incidents of stone-pelting on school buses. How can any right thinking person pelt stones on school buses? The J&K government has assured that every effort is being made to ensure that all schools and colleges reopen, and security will be provided to students," the Home Ministry said in a statement.
The Home Minister also said government was happy to learn that most schools and colleges have reopened in Jammu and Kashmir and most students have gone back to schools and colleges today.
"I am confident that the few schools and colleges that remain closed today, presumably out of caution, will reopen tomorrow. I am also confident that the attendance will improve significantly tomorrow. The Government of Jammu and Kashmir has assured us that every effort is being made to ensure that all schools and colleges reopen and function normally and that security will be provided to enable the students to attend schools and colleges.
Both the Centre and the state government celebrated the reopening of schools, but Chief Minister Omar Abdullah was careful not to tom-tom it as a victory over separatists. He reiterated his request to keep education out of the conflict.
"It's nobody's victory and nobody's defeat, its only the victory of those children who have been able to come back to schools and been able to resume their education. We hope that more and more children come back to school," Omar said.
"I appeal to all sections of the people of Jammu and Kashmir especially parents, to cooperate with the State Government and ensure that all schools and colleges function normally," the Home Minister said. (
Watch: Can't kneel before separatists, says BJP's Arun Jaitley
)
No one has any problem with the functioning of health sector, Public Distribution System (PDS), power or water supply. Then why the children's education has become a point of confrontation between separatists and the government in Kashmir? Will both sides of divide rise above their political considerations and facilitate children to go back to schools without further hardships?