Udhampur:
Highlights
PM opened India's longest road tunnel in Jammu and Kashmir today
Says 40 years of bloodshed hasn't helped anyone, only lives lost
Had tourism been promoted as much, Kashmir would have gone much ahead: PM
Prime Minister Narendra Modi today said Kashmir has to decide between
tourism and terrorism -
presenting the
Chenani-Nashri tunnel
he opened today in the state today as a key to prosperity. The longest tunnel of the country, he said, will not only bring in tourists by cutting down the travel time, but help Kashmir's farmers to sell their produce elsewhere. The separatists of the state had called for a strike in the state today in protest against the Prime Minister's visit, claiming the problem the state faces is political and development is not the solution.
"I want to ask the people of Kashmir... on the
one side there is tourism, on the other, terrorism
," PM Modi said. Pointing that many innocents have lost their lives, but "no one has gained anything", he added, "If tourism had been promoted in these 40 years, the world would have been at Kashmir's feet".
Last year, Kashmir has witnessed five months of protest following the death of Hizbul Mujahideen terrorist Burhan Wani. Hundreds of young men had hit the streets and clashed with security forces, many had been injured. Education had been severely hampered, with schools and colleges shutting down due to the violence and strike call by separatists.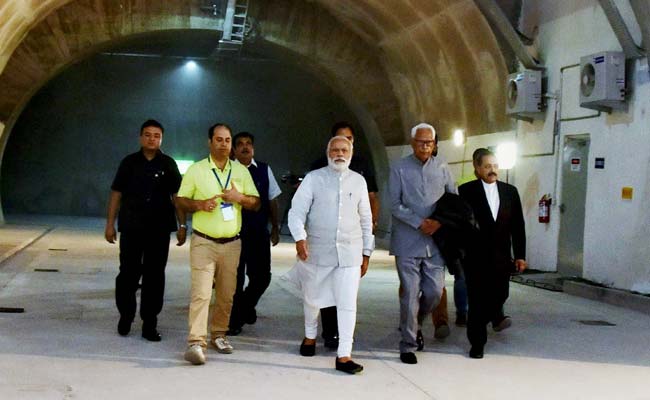 Today, addressing the young men of the Valley who have been behind the stone throwing protests, the Prime Minister underscored, "While some are busy throwing rocks, others are busy in cutting them and making way for Kashmir's progress".
PM Modi also invoked his predecessor Atal Bihari Vajpayee's famous call for "
Kashmiriyat, Insaniyat, Jamooriyat
" - a policy that had evoked a heartfelt response from Kashmir.
He also attacked Pakistan for exploiting the people of Pakistan Occupied Kashmir. He said he wanted to show the people of Pakistan Occupied Kashmir how Jammu and Kashmir can develop. "Let the people of PoK see what development is, so they know the exploitation they have suffered from those controlling them," he added.
Get Breaking news, live coverage, and Latest News from India and around the world on NDTV.com. Catch all the Live TV action on NDTV 24x7 and NDTV India. Like us on Facebook or follow us on Twitter and Instagram for latest news and live news updates.