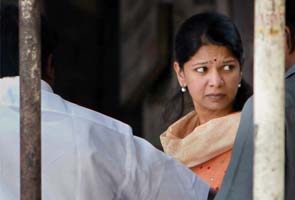 New Delhi:
DMK Rajya Sabha MP Kanimozhi's first night in Tihar jail was a sharp contrast to the hustle-bustle and media frenzy that she had been exposed to ever since her name surfaced in the 2G spectrum scam.
Inside her independent jail cell devoid of an AC or even a cooler, she ate home-cooked food that she had got with herself and slept at 11.30 pm.
On Saturday morning, she got up at 5.30 am and this time, there was no home-cooked food but jail breakfast for her. She had two slices of bread with
aaloo sabzi
and left for the court at 9:30 am.
Kanimozhi, who is the daughter of former Tamil Nadu Chief Minister M Karunanidhi, is lodged in jail number 6 (women's cell) and ward number 8 in Tihar Jail. Her new neighbours include Madhuri Gupta - a former Indian diplomat charged with spying for Pakistan's Inter-Services Intelligence (ISI) and Sharda Jain, a murder accused.
On Friday, the Delhi court hearing the 2G case rejected Kanimozhi's bail application and ordered her immediate arrest. She has been chargesheeted by the CBI for allegedly conspiring with former Telecom Minister A Raja and accepting a Rs. 214-crore bribe that was a part of India's largest swindle, the 2G scam. A Raja, her party MP and Dalit leader, has been in Tihar Jail since February for allegedly planning and executing the 2G scam when he was Telecom Minister in 2008.
Other high profile inmates at Tihar include former Chairman of the CWG Organising Committee, Suresh Kalmadi, Group MD of Anil Dhirubhai Ambani Group (ADAG), Gautam Doshi, and former MD of Unitech, Sanjay Chandra.