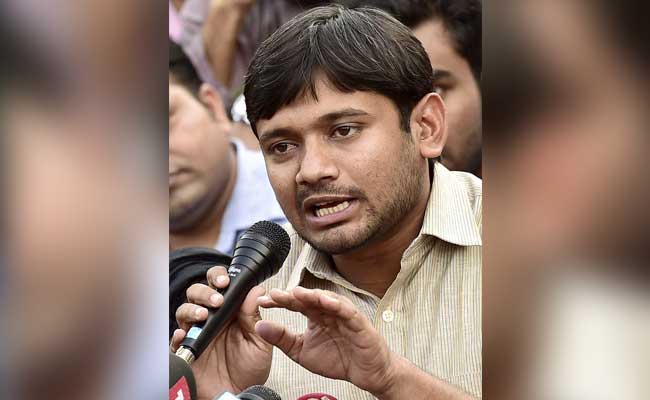 New Delhi:
Kanhaiya Kumar, the JNU Students Union president, had objected to cancellation of permission for the controversial event against hanging of Parliament attack convict Afzal Guru, JNU Registrar Bhupinder Zutshi has claimed.
Mr Zutshi, deposing before the high-power inquiry committee constituted by Vice-Chancellor M Jagadesh Kumar, is believed to have said that Mr Kumar was against the authorities' decision to cancel permission of the February 9 event during which anti-national slogans were allegedly raised.
"I had called a meeting of JNSU in my office at 3 pm on February 9 to discuss the route for the new bus acquired by JNU for disabled students. Kanhaiya Kumar and Rama Naga (JNUSU General Secretary) reached first. Around 3 pm, we had a discussion on the bus route. After 10 minutes, Saurav Sharma (ABVP member and JNSU joint secretary) also came. We all discussed the bus route for 10 minutes," Mr Zutshi said.
"Mr Sharma later showed me a pamphlet regarding the 'cultural event' on 'judicial killing of Afzal Guru' and said some of the students are organising this event today (February 9, 2016) at 5 pm at Sabarmati Dhaba," Mr Zutshi told the committee.
The JNU Registrar has further maintained that when the varsity decided to withdraw the permission, Mr Kumar had called him objecting to the cancellation.
The JNU had instituted a disciplinary committee on February 10 to probe into the controversial event. On the basis of the preliminary enquiry report eight students including Kanhaiya Kumar were academically debarred.
The five-member committee which has been granted two extensions for submitting its report is expected to come up with its recommendations by March 11.
Students including Mr Kumar, have already refused to depose before the committee demanding that the preliminary inquiry was conducted in an absurd manner and students suspended without questioning.
The students have been demanding that committee starts its enquiry afresh, a demand which has been ruled out by the university.
Mr Zutshi, is also under criticism from a section of students and teachers for allegedly mishandling the issue.