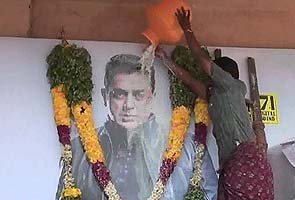 New Delhi:
Kamal Haasan's mega-budget film
Vishwaroopam
, which is fighting a ban in Tamil Nadu,
released in theatres across India today.
The Hindi version of the Rs 95-crore film, titled
Vishwaroop
, is being screened across northern India. It was shown by special invite in Mumbai yesterday evening.
The film ran into trouble in Tamil Nadu after Muslim groups protested that it showed the community in poor light. Just before its release last week, the Tamil Nadu government banned the movie for two weeks, and this has been upheld by the Madras High Court.
Amid furore over the ban, which many allege to be politically motivated, the Jayalalithaa government yesterday hinted at a compromise. She said the film could be released if Kamal Haasan can reach an amicable solution with the protesting groups.
Government sources say Kamal Haasan and Muslim leaders are likely to meet in Chennai today to decide what cuts should be made to the film so that theatres could screen it.