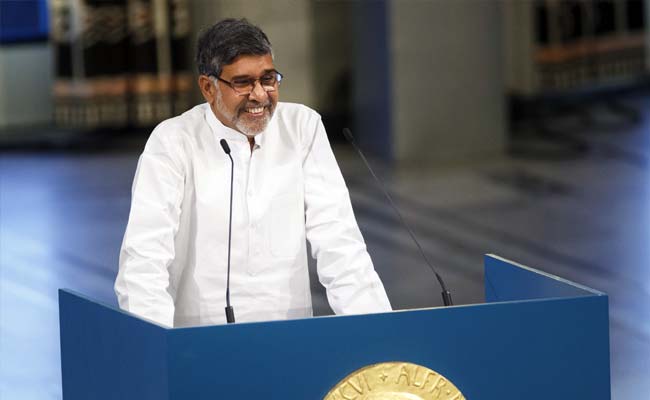 New Delhi:
Visitors to Rashtrapati Bhavan will now be able to get a glimpse of the Nobel Peace Prize received by child rights activist Kailash Satyarthi, who dedicated the honour to the nation by presenting his medal to President Pranab Mukherjee in New Delhi today.
The medal was dedicated by Mr Satyarthi to Pranab Mukherjee at a ceremony held at Rashtrapati Bhavan.
"He (Satyarthi) is doing very good job which has been recognised by the international community and in its recognition he has been given Noble Peace Prize. I thank him on behalf of people of this country. I congratulate him,"
Mr Mukherjee said during the ceremony. The medal, in 18 carats gold and weighing 196 grams, will be kept at Rashtrapati Bhavan museum.
"Medal will be part of Rashtrapati Bhavan museum and public at large will be able to see it," Press Secretary to the President Venu Rajamony said.
Mr Satyarthi and Pakistan's Malala Yousafzai were on December 10, last year awarded the Nobel Peace Prize for 2014 for their pioneering work on promoting child rights.
"I committed the medal to the country today. All eyes of the world are on India. It should be our collective responsibility that children's rights are protected," Mr Satyarthi said.
He said the present and future of all children living in the country should be protected.
"There is no Nobel medal in country today as those who got it, they are not here or left the country. Rabindranath Tagore's medal was stolen. This Nobel medal is of the country, of all its people," he said.
Mr Satyarthi also urged the Parliamentarians to pass a legislation which seeks to ban any kind of labour by child below the age of 14 years, and also prohibits employment of children below the age of 18 years in hazardous industries.
"It was to be passed in the last Winter Session. I hope it will be done soon," he said.
Mr Satyarthi's NGO 'Bachpan Bachao Andolan' claims to have rescued over 83,000 children from bonded labour and slavery since its inception in 1980.