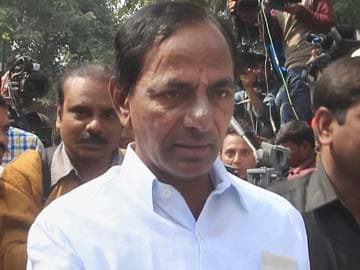 New Delhi:
Telangana Chief Minister K Chandrashekar Rao today said a consensus among the four stakeholder states is necessary before going ahead with the Polavaram irrigation project.
Mr Rao, who is in Delhi, said he has raised the issue with Prime Minister Narendra Modi.
"Mostly tribals from Odisha, Chhattisgarh, Telangana and Andhra Pradesh will be affected. I requested the Prime Minister to convene a meeting of the four chief ministers. I urged him to coordinate (the meeting) himself so that a consensus can be evolved. He said he will look into it. I think he will do it," Mr Rao told reporters in Delhi.
He said his party, Telangana Rashtra Samiti, will oppose the Polavaram ordinance when it comes to Parliament to be converted into a bill. "We will oppose it," he said.
He said there can be alternatives to submerging land of the people.
Last month the government had promulgated an ordinance merging some villages and mandals of Telangana into Seemandhra in a bid to deal with resettlement and rehabilitation of those displaced by the Polavaram project.
The ordinance aims to facilitate smooth resettlement and rehabilitation on part of the multi-purpose project which will help in irrigation and power generation.
The amendment will enable land for land in the same revenue division where people will be displaced.
Mr Rao also invited Mr Modi for the Telangana state inauguration day. "He has agreed. The dates will be finalised soon...I also invited the President to chair the summit of world mayors in July. He has accepted the invite," he said.
Mr Rao said during his meeting with the Prime Minister, he handed over a "wishlist" of the demands of the people of the new state.
"I have not asked for a package. The list has demands that are already mandated in the Andhra Pradesh Reorganisation Act (which enabled creation of a separate Telangana)," he said.
Mr Rao said Mr Modi assured the new state all possible help and said there will be no discrimination against non-BJP states.
Telangana came into being as the 29th state of India on June 2.