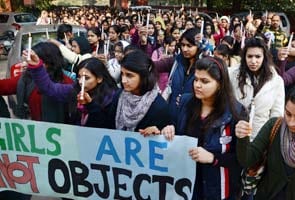 New Delhi:
The head of a commission assigned to review laws for sexual crimes thanked the country's youth for fighting for change after a young student was gang-raped on a bus in Delhi last month.
"Young people are the real hope," said Justice JS Verma, "they have taught the older generation."
The three-member commission submitted its report to the government today. It was set up amid huge demonstrations by thousands of students who demanded tougher punishment for sexual offenders after the monstrous attack on Amanat (NOT her real name). She died two weeks after she was allegedly raped by six different men who also assaulted her boyfriend and her with an iron rod.
Justice Verma said he received 80,000 suggestions from India and abroad after he set January 5 as a deadline for comments from jurists, women's groups and other forums to revamp existing legislation to deal with sex offenders.
Congress party chief Sonia Gandhi on Sunday condemned the "shameful" social attitudes that she said led to crimes like gang-rape. The case had "shaken the entire country", she added.
India's 153-year-old penal code stipulates rapists should serve a minimum of seven years in prison and a maximum of life, while gang-rape convicts face a minimum term of 10 years and life imprisonment.