Patna:
Highlights
His supporters roughed up the two people who showed him black flags
The men were detained by Bihar police for questioning
Mr Kumar was arrested on sedition charges in February, released on bail
Jawaharlal Nehru University Students' Union (JNUSU) president Kanhaiya Kumar was today shown black flags at a function in Patna by two persons who were roughed up by his supporters before being detained by the police for questioning.

The two persons belonging to a little-known outfit -'Youth Swaraj' - showed black flags to the JNUSU president, besides raising slogan of 'Bharat Mata Ki Jai' while he was speaking at a function 'Azadi' in SK Memorial hall in Patna organised by AISF and AIYF.

Mr Kumar's supporters thrashed the two persons in the hall. Later the police took the duo into custody.

"Police have detained two persons in this regard," Patna Senior Superintendent of Police Manu Maharaj told news agency PTI.

The two detainees have been identified as Nitish Kumar, a resident of Sitamarhi district, and Manikant Mani, a resident of Samastipur district, the police said, adding that the two youths are said to be the members of RSS.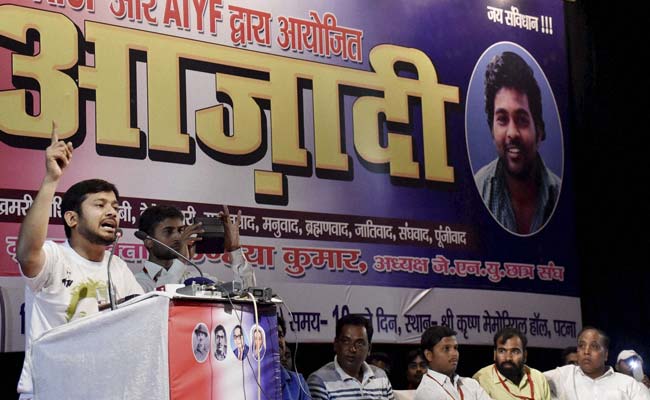 The JNUSU president, who was addressing the gathering when the incident occurred, said he was not scared of such elements who oppose him or try to disturb his functions.
"I am not scared of anything whether you hurl a shoe or a stone. They want to disturb my programmes as they are uncomfortable with my questions," Mr Kumar said.
Attacking Prime Minister Narendra Modi, Mr Kumar alleged that he became the PM "with the support of capitalists" and cannot solve the problem of unemployment.
Criticising those who say that tax-payers' money or subsidy being provided to the JNU is a waste of public money, Mr Kumar said that there is a "conspiracy" to "defame" the premier academic institution of the country.
"I am a PhD scholar who is the son of an Anganwadi worker. This itself proves that taxpayers' money or subsidy given to JNU is spent and utilised properly," Mr Kumar said, adding that people should not worry about wastage of taxpayers' money as a large majority of people in the country want JNU like institutions.
Alleging that only capitalists get loans from banks, he said they "do not repay loans and instead they fly to London overnight", a reference to the fugitive industrialist Vijay Mallya, who is in Britain after defaulting on a loan of over Rs 9,000 crore.
Mr Kumar was given a rousing welcome in the state yesterday.
He was escorted by a posse of policemen at airport on his arrival from New Delhi and the JNUSU president moved with a convoy in the state capital.
Mr Kumar, who hails from Begusarai district of Bihar, is on a two-day tour of his home state and
met both Chief Minister Nitish Kumar and RJD president Lalu Prasad
yesterday.
Mr Kumar shot into limelight after he was arrested in a sedition case in connection with a controversial event in JNU.
He is currently out on interim bail.
Get Breaking news, live coverage, and Latest News from India and around the world on NDTV.com. Catch all the Live TV action on NDTV 24x7 and NDTV India. Like us on Facebook or follow us on Twitter and Instagram for latest news and live news updates.