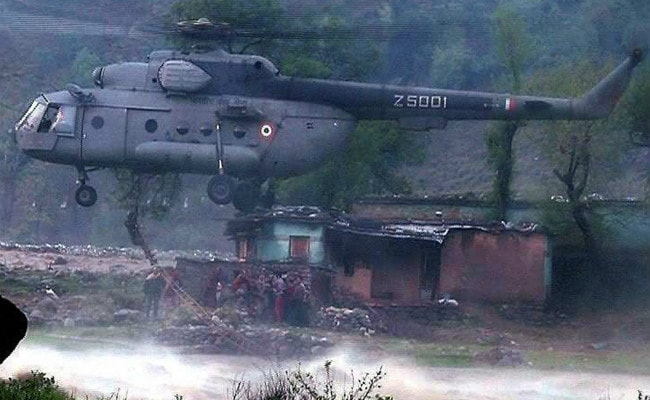 An unprecedented rainfall, multiple avalanches and an unusual April snowfall in Jammu and Kashmir have triggered fears of a repeat of the 2014 floods that caused death and devastation in the Valley. In what could be a relief, the Jhelum waters have started receding, easing fears of a flood. However, the Jammu-Srinagar National Highway remains closed due to landslides and heavy rains. Three soldiers have died in the avalanche that struck an army picket in Ladakh's Batalik sector yesterday.
Here are the 10 big facts in this developing story:
The heavy snowfall in Jammu and Kashmir triggered multiple avalanches, in which an army picket in Batalik sector in Ladakh got buried yesterday afternoon. The Army has said that bodies of three soldiers hit by avalanche have been recovered. Two soldiers have been rescued.

The Army's Northern Command said specially trained and equipped avalanche rescue teams were employed in Batik sector to rescue the soldiers trapped in the avalanche.

The Jammu-Srinagar National Highway, the lifeline of Kashmir that connects the Valley to the rest of the country, is closed this morning due to landslides and heavy rains in the state. Other link roads in the Doda-Kishtwar belt are also closed.

The Jhelum river started flowing above the danger mark forcing the administration to issue a flood alert in the Valley.

Officials, however, said the water level in Jhelum river and its tributaries started to recede today after rainfall stopped last night. The water level in Jhelum started to recede at around 3:00 AM at Sangam in South Kashmir, however, the situation in Srinagar hasn't improved much, officials said.

Prime Minister Narendra Modi today spoke to Jammu and Kashmir Chief Minister Mehbooba Mufti and offered all possible support in dealing with the flood situation in the valley. "Spoke to J&K CM @MehboobaMufti on the flood situation in the state. Offered all possible support from Centre in dealing with the situation," PM Modi tweeted this morning.

17 people were rescued from flash floods in Poonch yesterday. After the Jhelum waters crossed the 'flood declaration' mark in Srinagar yesterday, the authorities set up emergency control rooms.

Many low-lying areas have been flooded and there are concerns about the by-elections in Srinagar and Anantnag parliamentary constituencies, slated to be held on April 9 and 12.

Chandigarh-based Snow and Avalanche Study Establishment had given avalanche warnings yesterday for parts of Jammu and Kashmir and Himachal Pradesh. The agency had also warned of a high-danger avalanche in Kargil.

Kashmir had witnessed unprecedented floods in 2014 when most of the residential areas, including in Srinagar, were inundated by waters up to the level of several feet.