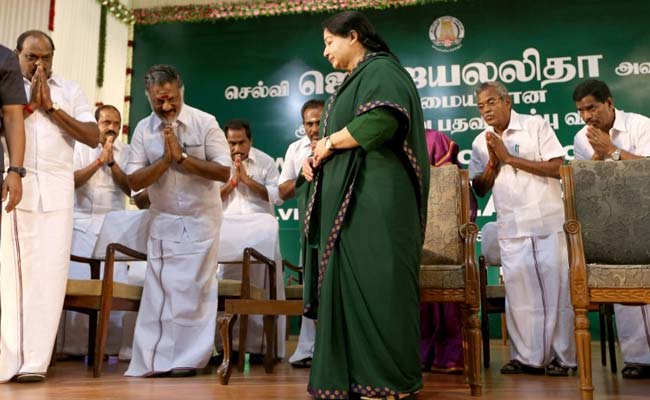 With J Jayalalithaa taking oath as Tamil Nadu chief minister today, #JayaReturns trended high on Twitter. However, soon Ms Jayalalithaa's ministers upstaged her in the conversation on Twitter as their mass oath ceremony became the talk of town.
The ministers in their crisp white shirts and veshtis stood in a line and took oath together after Ms Jayalalithaa had been sworn in.
I have heard mass prayers. This is very new. Mass oath taking ceremony in Tamilnadu. #JayaReturns

- Hemo Kannan (@teekayem1970) May 23, 2015
Like mass marriages all ministers of Jaya cabinet take oath at once #JayaReturns

- Srikanth (@Modi4India) May 23, 2015
The event wrapped up in less than half an hour, and Twitteratti also pointed out if that was too quick a ceremony.
Ministers swear-in in batches. A way to quickly complete the ceremony? #JayaReturns@SaddaHaqMedia

- Akshaya Nath (@Akshayanath) May 23, 2015
The AIADMK supremo had resigned eight months ago after being convicted in a corruption case. Last week, when she was acquitted by the Karnataka High Court, Twitter called it "Happy Amma Day".
Today, some on Twitter congratulated her.
#JayaReturns , Congratulations #Jayalalithaa ji for being again Tamil Nadu CM

- Vinay Tiwari (@viney_tiwari) May 23, 2015
Officially she is back.. Jayalalitha mam.. Tamilnadu Chief Minister.. #Ironlady#respect#jayareturns

- prem.R (@Premkumar_R) May 23, 2015
Some tweeted their expectations from 'Amma'.
Amma ke whistle podu. Jaya is back and hopefully Chennai's much delayed metro rail will be completed soon. #JayaReturns

- Gaggan Sabherwal (@GagganSabh07) May 23, 2015
Hope this time, she will do good for Tamilnadu. FingerCrossed #JayaReturns

- (@amit_aap) May 23, 2015
Meanwhile, some on Twitter thought the audience at the oath ceremony deserved more attention than the chief minister.
Seeing JAYA TV only for #Rajinikanth sir :) And a little bit for #JayaReturns

- Mr.Z (@ZRahmath) May 23, 2015
Sasikala is seen sitting in the first row of the auditorium. #JayaReturns

- Deepti Sachdeva (@DeeptiSachdeva_) May 23, 2015
Two weeks ago, a court in Karnataka acquitted Jayalalithaa of charges of amassing illegal wealth disproportionate to her source of income.
She will take charge with 28 ministers, including O Panneerselvam, who took over as chief minister in her absence, but will now be back as her finance minister.