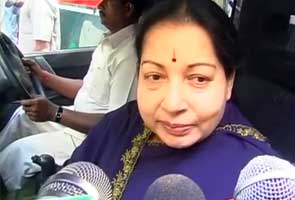 Chennai:
In a sudden move, Tamil Nadu Chief Minister Jayalalithaa on Friday sacked six of her ministerial colleagues and inducted an equal number to replace them.
The axe fell on C Shamugavelu (Rural Industries), R B Udhyakumar (Information Technology), S P Shanmuganathan (Hindu Religious and Charitable Endowments), N R Sivapathy (Animal Husbandry), G Senthamizhan (Information, Law and Courts) and Budhichandiran (Food).
Jayalalithaa's action announced in a Raj Bhavan communique comes just five months after she returned to power in May following her AIADMK's landslide victory in the April 13 assembly elections.
Of the dropped ministers, Senthamizhan, AIADMK South Chennai district secretary, had allegedly telephoned police to release some arrested partymen.
Udhayakumar, who once stated he would not wear slippers in the secretariat as it was the living place of his 'god' (Jayalalithaa) was chided by her for his "extravagance" during her visit to Tiruchirapalli for campaigning in the bypoll.
Budhichandran faced the axe for reportedly favouring a group of Padugas, a tribal community in Nilgiris district and ignoring others. The other ministers were removed for their non-performance.
Those to be sworn-in are former AIADMK minister S Damodaran, R Kamaraj, S Sundraraj, M Paranjothi, who was recently elected to the assembly in the bye-election to Tiruchirapalli West, V Moorthy and K Rajenthra Bhalaji. The communique did not mention the date of the swearing-in.
Simultaneously, she also changed the portfolios of several ministers.
This is the third time since May that Jayalalithaa has reshuffled her cabinet.
In June, she dropped Law Minister Isakki Subbaiah and his portfolio was handed over to Senthamizhan. She then inducted Chendur Pandiyan as Rural Industries minister and Mohammedjohn as a replacement to Mariam Pitchai, who died in a road mishap even before taking oath as MLA.
Of the new ministers, Damodaran was a member in the 2001-06 Jayalalithaa ministry while R Kamaraj was a former Rajya Sabha member. Sundararaj is a three-time MLA while Moorthy is a second time member. Rajenthra Bhalaji has become MLA for the first time.
Jayalalithaa also effected changes in the portfolios of her ministers.
Agriculture Minister K A Sengottaiyan, the number three in the cabinet, has now been made Information Technology minister. M C Sampath moves to Rural Industries from Special Programme Implementation, while T K M Chinnayya has been shifted to Animal Husbandry from Environment.
B V Ramanna, Handlooms Minister, will now take care of the environment portfolio.
Of the new ministers, S Damodaran will handle the Agriculture portfolio, Kamaraj (Food), Sundararaj (Handlooms), Paramjothi (HR & CE and Law), V Moorthy (Dairy development) and Rajethir Bhalaji (Information and Special Programme implementation).