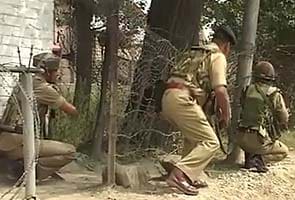 Srinagar/Kathua:
Hours after more militants were sighted at Kathua district in Jammu and Kashmir, site of the audacious Thursday attack, a shootout occurred at a security checkpoint on the outskirts of Srinagar today, leaving a civilian injured.
According to sources, two men on a motorcycle tried to flee when they were stopped by the army at the check post near the posh Sanat Nagar neighbourhood. While there is no official confirmation of the men on the motorcycle opening fire, sources said army jawans opened fired in air after the two fled.
One of the motorcyclists, reportedly a class 10 student, has been detained. Police sources say there is no evidence to suggest he has any militant links. A search is on for the other person on the motorcycle.
A lesser-known group, Shohada Brigade, has claimed responsibility for the incident, saying two of its activists were involved.
Meanwhile, at Kathua district earlier today, at least four more militants have been reportedly sighted at Diyalachak near Hiranagar border, sources said.
It was in this area that the audacious twin attacks on a police station and an Army camp took place on Thursday, killing 10 people.
A police team has cordoned off the area and launched a search operation after the teachers and students of a government school said they had seen the militants. To avoid any hostage-like situation, all schools in Kathua district have been closed.
While there has not been any report of firing so far, locals in the area have claimed they saw the militants and informed the police. Traffic on the Jammu-Pathankot highway has been stopped.
On Thursday, three terrorists, believed to have crossed over the border hours before they struck, attacked a police station in Hiranagar, killed four cops and two others. They then attacked the camp of the 16th Cavalry armoured corp unit and shot dead four Armymen including a Leiutenant Colonel. (
Attacks not pre-planned, say security agencies
)
The Station House Officer and three other cops at Hiranagar police station have been suspended for not responding properly to the Thursday attack.