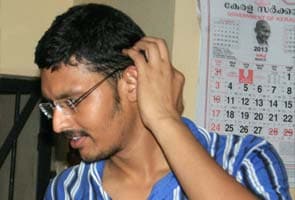 Jaipur:
A police team from the Rajasthan capital of Jaipur is likely to travel to Kerala today to identify and take into custody senior police officer's son Bitti Mohanty, who jumped parole after his conviction for raping a German woman in 2006.
The team could not be rushed immediately due to lack of enough options for transportation to Kerala, a police official told IANS.
"A police inspector along with three constables is likely to leave for Kerala on Sunday morning. We are trying to arrange for a transportation option by air or by train. It seems that team will be able to leave tomorrow (Sunday)," said Lalkothi station house officer Sampat Singh on Saturday.
Mohanty is the son of BB Mohanty, a former Director General of Police-rank officer in Odisha. He had raped a German tourist in Rajasthan's Alwar district on March 21, 2006 and convicted on April 12, 2006.
Mr Singh said that they received information from Kerala Police on Friday evening that they had detained a man on suspicion of his being Mohanty.
"The Kerala Police told us that the man worked at the State Bank of Travancore (SBT). We would confirm the identity only after reaching Kerala," the officer said.
Mohanty was sentenced to seven years' imprisonment on rape charges. In November 2006, he secured parole to meet his ailing mother. Since then, his whereabouts are unknown.
Mohanty's father served as director general, Home Guards and Fire Services at the time when the former committed the crime, and was accused of aiding his son's escape.
He had been arrested for aiding the son's escape in January 2008, but was however released on bail after remaining in custody for a few days.
Get Breaking news, live coverage, and Latest News from India and around the world on NDTV.com. Catch all the Live TV action on NDTV 24x7 and NDTV India. Like us on Facebook or follow us on Twitter and Instagram for latest news and live news updates.