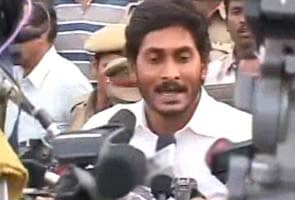 Hyderabad:
Jagan Mohan Reddy, chief of the YSR Congress, was questioned for a second day today by the Central Bureau of Investigation (CBI) in connection with a disproportionate assets case against him. Emerging out of the Dilkusha Guest House in Hyderabad, where he was questioned for nearly eight hours, Mr Reddy said he has been called for another round of questioning tomorrow.
"Things went off peaceful. They have sought more clarifications tomorrow and I will be giving them those clarifications," said Mr Reddy.
Earlier today, before he set out for the CBI office for questioning, Mr Reddy alleged that the Congress and the Telugu Desam Party (TDP) want to eliminate the "third force" in Andhra Pradesh, and deliberately want to postpone the by-polls scheduled for June 12 in the state.
"After these elections, there will be only two parties left in Andhra Pradesh. One of them will be the YSR Congress party. Both the Congress and the TDP fear that they may lose out and that is why they have come together to eliminate political competition," he said.
The 40-year-old said he is getting feelers from several leaders in both the Congress and the Telugu Desam. Bobbili MLA belonging to the Congress Ranga Rao joined the YSR Congress party today. Yesterday, Jagan had come to the CBI camp office in Dilkusha accompanied by Anakapalle Congress MP Sabbam Hari and Eluru MLA. Senior TDP leader Mysoora Reddy also joined Mr Reddy's party yesterday.
Mr Reddy was also questioned yesterday by the CBI for nearly eight hours. When asked about the details, he told NDTV that a four-member CBI team questioned him and that there was no official of the Enforcement Directorate. He said not just about his companies and business associates but also about his investments before his father became chief minister. He also added with a smile that he doesn't fear arrest.
"There is a conspiracy that has been hatched out against me. Previously, I have written letter to the Prime Minister (on May 22), to the CEC and have been speaking about it in public meetings. The conspiracy is: For 9 months the CBI remained silent, without giving me summons. But now, after the CBI court gives me summons, and before I appear before the special CBI court on the 28th, I receive this summons. I talked about the conspiracy theory on the 22nd, and that night, at 12 o'clock, the CBI was in a hurry to give me summons before the conspiracy theory gets into the people's mind. They asked me to appear before them on the 25th. I knew beforehand that the CBI will be issuing summons against me. I had made it clear that the CBI wants to make this arrest 15 days before the elections and create a law and order situation, and postpone these elections. That is their strategy," he told NDTV.
Speaking about the current political scenario in Andhra Pradesh, Mr Reddy said, "Within the Congress party as well as the Telugu Desam Party, a lot of good leaders - in fact I'm very choosy and picky in taking them only on merit - are coming forward against this injustice where two parties wanting to eliminate the third party... My top priority is to have these elections conducted and to show to the country what kind of injustice is being done in Andhra Pradesh. The people have heard their version, people have heard my version and they are in full knowledge of what is happening and the people would be voting against the injustice being done here."
Mr Reddy, who was on a hectic campaign tour ahead of by-elections to 18 assembly and one Lok Sabha seat on June 12, had returned to his Lotus Pond residence in Hyderabad on Thursday night. Mr Reddy has been denied anticipatory bail and his supporters fear that he could be arrested. When the CBI asked him to make himself available for questioning on Friday, Mr Reddy had asked the High Court to defer the appointment to June 15. Till then, he argued, he would be busy with by-elections. But the court refused his request.
The entire area around Mr Reddy's home and the route from his home to the CBI camp office was sanitised of his supporters and traffic, to avert any possible law and order trouble. The road from his Banjara Hills residence to the place of interrogation was fortified, lined with policemen. Personnel from the city police, Andhra Pradesh Special Police and Rapid Action Force (RAF) were deployed around the guest house and surrounding localities. Police kept water cannons and tear gas ready.
Prohibitory orders banning the assembly of five or more people have also been imposed in the city and other parts of the state.
Mr Reddy has admitted that if he is arrested it could become an emotive issue. A couple of hours after he appeared before the CBI on Friday, unidentified persons set afire a bus of state-owned Road Transport Corporation (RTC) at NGOs colony in Vanasthalipuram in Hyderabad.
Dozens of Jagan supporters were arrested in various districts since Thursday night while heading for the state capital. Jagan supporter Konda Murali was taken into preventive custody in Warangal.
The police have also imposed prohibitory orders in Jagan's native district Kadapa and several places in the state.
Mr Reddy is the son of former Andhra Pradesh Chief Minister YS Rajasekhara Reddy, who died in a helicopter crash in 2009. After his father's death he split with the Congress and formed his own party, the YSR Congress.
The CBI alleges that while YSR was in office, he conspired with other ministers to influence entrepreneurs to invest in his son's companies; in return, they were granted licences and other permissions required for their businesses.
The CBI inquiry into Mr Reddy's business empire and the source of its funds was ordered by the Andhra Pradesh High Court in August 2011.
The corruption case against Mr Reddy could affect not just his political fortunes, but that of several other leaders from the party he quit in a huff, the Congress. One of those leaders, a minister named M Venkatramana, was arrested after seven hours of interrogation on Wednesday. Mr Venkatramana has been remanded to judicial custody till June 7. He resigned soon after from the Congress government. Five other Congress ministers are also being studied for possible collusion.
Violence erupted on Thursday evening in his constituency of Repalle with his supporters attacking public buses. Mr Venkataramana was till Thursday the Excise Minister. But he has been arrested for allegedly violating rules to give land to industrialists when he was the Infrastructure Minister while YSR was Chief Minister.