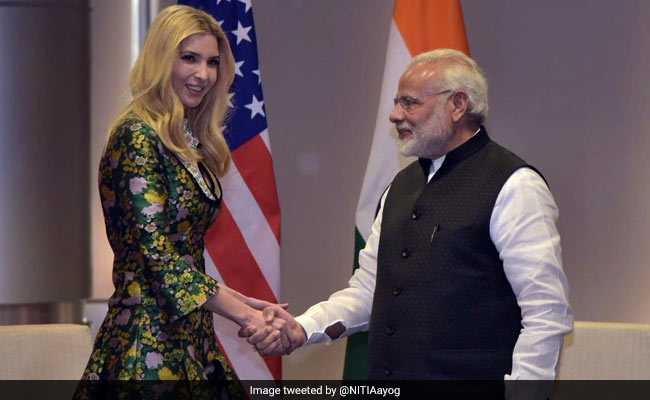 New Delhi:
Ivanka Trump, daughter and adviser to
US President Donald Trump
,
has arrived in Hyderabad
for the annual
Global Entrepreneurship Summit
co-hosted by India and the US. For the first time, the GES is being held in South Asia. The three-day summit, from November 28-30, is being held at the Hyderabad International Convention Centre (HICC) and Hyderabad International Trade Expositions (Hitex).
Ms Trump is leading a delegation
of senior White House officials as well as American entrepreneurs. The theme of this year's summit is 'Women First, Prosperity for All' and will include 1,200 young entrepreneurs, and most of them are women.
While Ms Trump has been to India before, this will be her first visit as a senior White House adviser. She was invited for the summit earlier this year by Prime Minister Narendra Modi during his state visit to the US.
Here are the highlights of Ivanka Trump's visit to India:
Ivanka Trump, a woman entrepreneur herself, said she was excited to see so many women entrepreneurs under one roof. "I am proud to see that for the first time a majority of 1500 women entrepreneurs are participating in such an event."
"Only when women are empowered to thrive; will our families, our economies, and our societies reach their fullest potential," Ms Trump asserted.
"After my father's election, I saw the opportunity to leave my businesses to serve my country. Our policies aimed at helping women and removing barriers for them."
"Today, more than 11 million women in the US own businesses
Many woman become entrepreneurs out of necessity. Fueling the growth of women-led-business is not only good for the society but also the economy."
"We are committed to supporting women and men both inside and outside of their homes. Women are more likely than men to hire other women. Here in India, I want to applaud PM Modi for his firm belief that the progress of a community is incomplete without empowering women."
"For the first time ever, women make up 50 percent of the people selected for this summit," Ms Trump said. In the last three decades women has made a major progress in establishing businesses, she highlighted, however, while talking about the challenges, "Women entrepreneurs got less than 3 percent funding to establish businesses in 2016."