New Delhi:
Highlights
Pranab Mukherjee said he holds no grudges against Manmohan Singh
Dr Singh was the right person to lead the country: Pranab Mukherjee
Pranab knew I had no choice in this decision, Manmohan Singh had said
Pranab Mukherjee today told NDTV that though he was superseded for the country's top job, he holds no grudge against the man under whom he served as a union minister for eight years till he was elected President of India. "Dr Manmohan Singh was the right person to be chosen to lead the country at that point of time and serving under him... I can say with confidence that he provided the right leadership to the nation as Prime Minister."
Mr Mukherjee shared his assessment with NDTV in an exclusive interview. Over the weekend, his missed opportunity at running India as the leader of the coalition led by his former party, the Congress, turned into a national headline. At an event where his new book was released,
Dr Manmohan Singh candidly said
that in 2004, when Congress chief Sonia Gandhi selected him as premier, he was surprised because Mr Mukherjee was far senior to him within their party.
"He had every reason to feel a grievance that he was better qualified than I was to become the prime minister, but he also knew that I have no choice in the matter," Dr Singh said; Mrs Gandhi and son Rahul were seen laughing at the disclosure.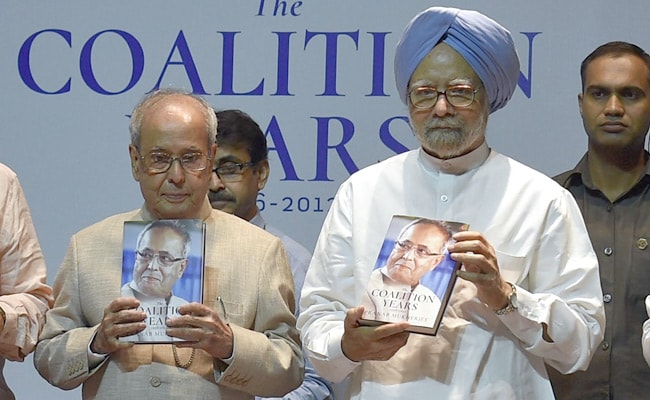 Mr Mukherjee writes in his memoir that after the Congress-led UPA won the 2004 election, the consensus within the party was that the PM should be a political leader with experience in party affairs and administration.
"The prevalent expectation was that I would be the next choice for prime minister after Sonia Gandhi declined. This expectation was possibly based on the fact that I had extensive experience in government," he writes.
When he then refused to be part of the government headed by Dr Singh, Mrs Gandhi made him change his mind, insisting on he would be "vital to its functioning and also be of support of Singh".
Get the latest election news, live updates and election schedule for Lok Sabha Elections 2019 on ndtv.com/elections. Like us on Facebook or follow us on Twitter and Instagram for updates from each of the 543 parliamentary seats for the 2019 Indian general elections.