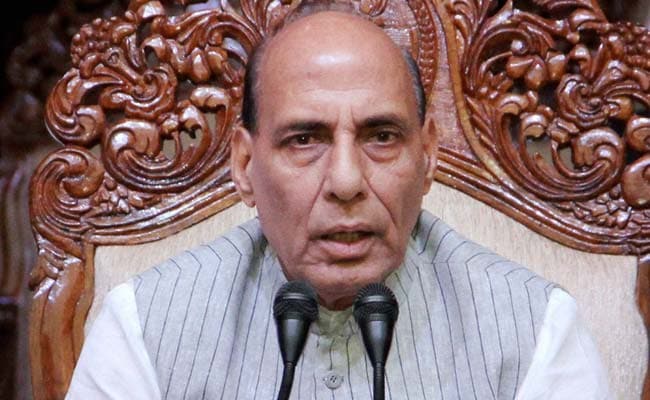 New Delhi:
Within hours of the terror attack in Jammu and Kashmir that claimed the lives of 17 soldiers, Union home minister Rajnath Singh launched a scathing attack on Pakistan, calling it a "terrorist state" that should be "isolated".
The home minister, who had cancelled his tour to Russia and the US after the dawn attack in Uri, posted a series of tweets taking on Pakistan.
I am deeply disappointed with Pakistan's continued and direct support to terrorism and terrorist groups.

— Rajnath Singh (@rajnathsingh) September 18, 2016
Pakistan is a terrorist state and it should be identified and isolated as such.

— Rajnath Singh (@rajnathsingh) September 18, 2016
In a tweet, Prime Minister Narendra Modi, who had discussed the issue with Mr Singh and defence minister Manohar Parrikar, also promised action.
We strongly condemn the cowardly terror attack in Uri. I assure the nation that those behind this despicable attack will not go unpunished.

— Narendra Modi (@narendramodi) September 18, 2016
In a series of tweets, Union Finance Minister Arun Jaitley, too, said, "Perpetrators of Uri terror attack shall be punished. My thoughts & prayers are with families of our soldiers injured & martyred."
While Pakistan has denied the charges, sources said the evidence linking Pakistan's involvement will be presented to Pakistan at an appropriate time.
The four terrorists, who had launched the attack on an army installation in Uri, had infiltrated from Pakistan, government sources have said.
Army officials said the terrorists were carrying "items of Pakistani markings" - including a large number of grenades and food.
Giving more details about the terrorists - who, sources say were a suicide squad -- the home minister tweeted:
There are definite and conclusive indications that the perpetrators of Uri attack were highly trained, heavily armed and specially equipped.

— Rajnath Singh (@rajnathsingh) September 18, 2016
The relation between India and Pakistan has nosedived following the unrest in Kashmir since the killing of Burhan Wani on July 8. As Pakistan accused India of targeting civilians in Kashmir, the government said Pakistan has been pushing in terrorists and arms to fuel the unrest.
India has also pointed out Pakistan's dismal record of rights violations in the province of Balochistan in a United Nations forum, with PM Modi first broaching the subject in his Independence Day address from the ramparts of the Red Fort.
Earlier this year, terrorists from Pakistan had launched an attack on the Pathankot air base. The operation to flush them out had cost the lives of seven army personnel. Even though the government had shared information on the attack with Pakistan, the investigation team that had come had denied that there was conclusive evidence of the terrorists being from Pakistan.