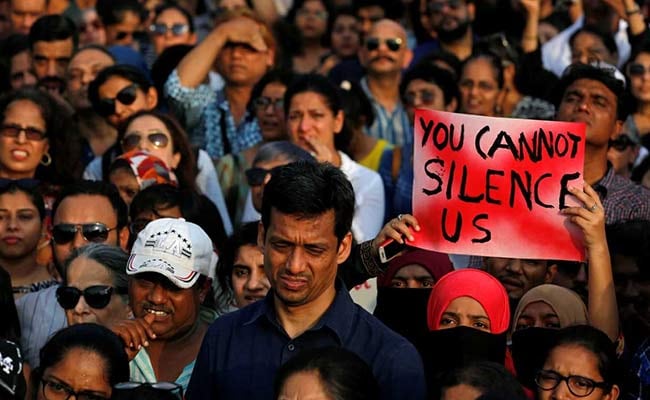 Jammu:
The fate of the juvenile accused in the rape and murder of an eight-year-old girl in Kathua will be decided next week by the Jammu and Kashmir High Court with the Crime Branch moving a petition to contest that he is a minor, officials said today.
A decision on the petition, which will be heard early next week, will give clarity on whether his case will be heard along with the seven other accused before the Pathankot district and sessions judge or continue to be tried by the Juvenile Board in Kathua.
"The police has conducted a thorough probe and also carried out medical tests on the accused. The reports suggest his age to be in the 19-23 age bracket," said a senior official of the state law department.
He said all the evidence collected in the case was the same for all the accused.
"We cannot make a witness depose twice -- once in Pathankot and the second time before the Juvenile Board. The clarity is important," the official said.
The case was transferred out of Jammu and Kashmir to Pathankot following a petition moved by the victim's family, which pressed for a fair trial and cited the hostile attitude of the Kathua Bar Association that had tried to prevent Crime Branch officials from filing the charge sheet.
On May 7, a three-judge bench comprising Chief Justice of India Dipak Misra and Justices D Y Chandrachud and Indu Malhotra transferred the case to the district and sessions judge in Pathankot and directed it to hold in-camera day to day trial.
In its nine-page order, the bench had said, "The juvenile, who is facing the trial, shall be dealt with in accordance with law and he should be given all special care and protection as per the command of the law."
The juvenile had allegedly kidnapped the girl on January 10 on directions of his uncle Sanji Ram, who is the brain behind her abduction and killing.
The minor along with Vishal, son of Sanji Ram, and special police officer Deepak Khajuria, alias 'Deepu', had raped her repeatedly for four days before killing her on January 14 and dumping her body in the jungle, the charge sheet said.