Highlights
AAP set to contest Goa polls in 2017, official announcement likely today
AAP hopes to make inroads in Goa with Congress in doldrums
AAP had failed to make a mark in assembly polls in Maharashtra in 2014
Panaji:
The Aam Aadmi Party will contest next year's assembly elections in Goa - a place smaller than Delhi, which the party had swept last year.
Launching the campaign at a rally in Panaji, Delhi Chief Minister and party chief Arvind Kejriwal said when other parties mocked AAP, saying it will not get a single seat, it responded by sweeping the elections in the national capital. "AAP had no money. But all of Delhi campaigned for us from door to door," he said.
The party has put up posters that announced that Goa is "ready for a political revolution". Mr Kejriwal said his party was formed after people "got tired of" waiting for the government to end corruption.
Taking on the Narendra Modi government, Mr Kejriwal said the BJP had ruined educational institutions - citing as examples the Pune film institute, the Hyderabad university and Delhi's prestigious Jawaharlal Nehru University.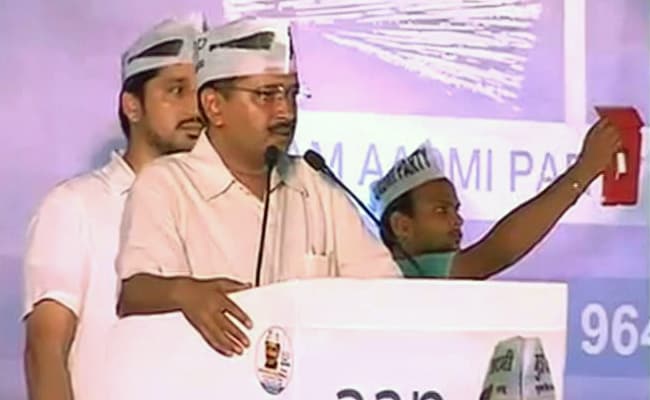 He also hinted that the BJP was had engineered the issue of anti-national slogans at the JNU.
"Five boys raised dirty slogans against India and ran away. The Modi government didn't catch them but his government used them to crackdown on JNU," he said. "Modiji has the army, the CBI, the RAW but they can't catch the 5 boys. Why? People suspect it was BJP who sent those 5 boys."
AAP had failed to even contest in the assembly elections in Maharashtra held in 2014. But last year, it swept the assembly elections in Delhi, winning 67 of the 70 seats. But with Goa having only 40 assembly seats and the Congress in doldrums, AAP hopes to make inroads.
The party, which holds four Lok Sabha seats in Punjab, also plans to go all out in the state elections there next year. Prashant Kishor, who is handling the campaign for the Congress in the state, has recently admitted that AAP "has the edge in Punjab".