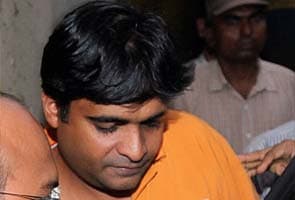 Mumbai:
Gurunath Meiyappan
, the son-in-law of India's cricket chief
N Srinivasan
, has been granted bail. He was arrested on May 25 for allegedly taking part in illegal betting on the Indian Premier League (IPL) which is the subject of multiple police investigations.
Small-time Bollywood actor Vindu Dara Singh, who was also arrested for allegedly serving as a go-between for Mr Meiyappan and bookies, has been given bail as well. (
Full coverage
)
Besides Vindoo and Mr Meiyappan, six bookies too were granted the relief on the bond of Rs 25,000 each. The court asked all of them to not leave the country and report to the Crime Branch every alternate day.
Mr Meiyappan's arrest appeared initially to spawn a crisis for his father-in-law, with several important members of the Board of Control for Cricket in India (BCCI) since 2011, demanding that Mr Srinivasan quit the powerful organization.
However, on Sunday, Mr Srinivasan won the support of the board which agreed that there is no need for him to quit his office; instead, he has agreed to "step aside" until a probe into the alleged betting is completed.
Jagmohan Dalmiya, a controversial former president of the BCCI from 2001-2004, has been appointed interim chief of the BCCI.
Mr Meiyappan is a business executive for the most successful IPL franchise, the Chennai Super Kings, which is owned by 68-year-old businessman Srinivasan who has headed the Board of Control for Cricket in India (BCCI) since 2011.
The arrest of Mr Meiyappan came after Test paceman
Shanthakumaran Sreesanth
and two teammates in the IPL's Rajasthan Royals - Ankeet Chavan and Ajit Chandila - were taken into custody. All the accused deny any wrongdoing.
Police allege the players deliberately bowled badly in exchange for tens of thousands of dollars after striking deals with bookmakers.
The multi-billion-dollar IPL has changed the landscape of world cricket with its mix of sport, Bollywood glamour, and American-style cheerleaders and television advertising breaks.
While it makes big money, the tournament has been dogged by allegations of money-laundering and tax evasion, as well as secret deals to hide teams' real owners.