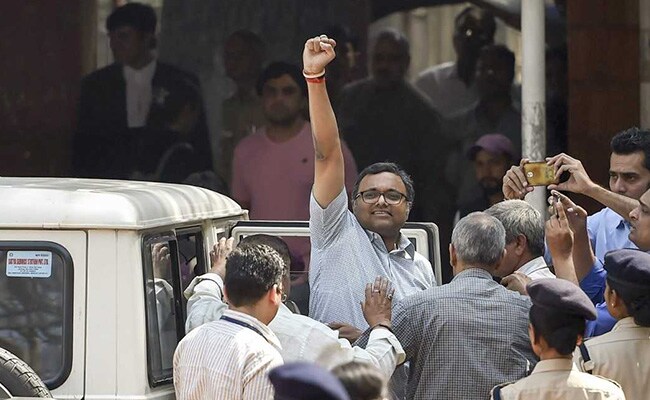 New Delhi:
The Supreme Court will hear the appeals of the CBI and Karti Chidambaram in the INX Media case against the order of the Madras High Court refusing to quash the FIR in the matter in the third week of April.
The matter is being heard by a bench of Chief Justice of India Dipak Misra, and Justices A M Khanwilkar and D Y Chandrachud.
During the hearing, senior advocates Gopal Subramanian and A M Singhvi, appearing for Karti, the son of Congress leader P Chidambaram, said they are aggrieved by the August 22, 2017, high court order by which it had refused to quash the FIR lodged by the CBI in the case and directed him to approach the Delhi High Court as per "forum of convenience" for the relief.
Mr Subramanian said when Karti's properties are in Chennai, search and seizures were conducted there, and the alleged conspiracy was also said to have been hatched in the Tamil Nadu capital, the Madras High Court should have decided the issue.
Advocate Rajat Nayar, who appeared for the CBI, which has filed a separate appeal against the same order, said they are also aggrieved by the high court's finding that it had the jurisdiction to decide the matter.
"In a criminal matter, only one high court has the jurisdiction to decide the issue. In this present case only Delhi High Court had the jurisdiction as FIR is registered in Delhi and trial is going before a magisterial court in Delhi," he said.
The bench was also informed that the Madras High Court has reserved its judgement on the pleas relating to the issuance of two look out circulars against Karti and others in connection with a corruption case.
The bench said since other connected matters are listed for hearing in April, it will take up the appeals in the third week of the month.
On March 14, the top court had extended the interim relief from arrest granted by the Delhi High Court to Karti Chidambaram in the INX Media money laundering case till March 26, and said it would clear the "confusion" which has crept in due to divergent views of different high courts on the Enforcement Directorate's powers to arrest an accused.