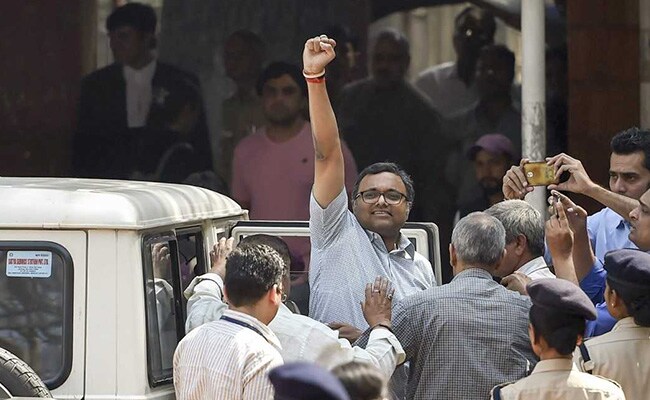 New Delhi:
Congress leader and former Union Finance Minister P Chidambaram's son Karti Chidambaram was today
granted bail
by the Delhi High Court. Karti Chidambaram has been accused of getting government clearance for foreign investments worth around Rs. 300 crore in television company INX Media in exchange for bribes in 2007. Investigators said he used the influence of his father, who was the Union Finance Minister in the UPA government.
Following is the timeline of events of the INX Media corruption case:May 15, 2017:
CBI files FIR alleging irregularities in Foreign Investment Promotion Board (FIPB) clearance to INX Media for receiving overseas funds to the tune of Rs 305 crore in 2007 when Karti's father was the Union Finance minister.
June 16:
The Foreigner Regional Registration Officer (FRRO) and the Bureau of Immigration, under the Union Home Ministry, issues look out circular (LOC) against Karti.
August 10:
Madras High Court stays the LOCs issued against Karti and four others.
August 14:
Supreme Court stays Madras High Court order staying Centre's LOC issued against Karti.
August 18:
Supreme Court asks Karti to appear before the CBI on August 23.
September 22:
CBI tells Supreme Court that Karti was prevented from travelling abroad as he was allegedly closing several of his foreign bank accounts.
December 8:
Karti moves Supreme Court challenging summons issued by the CBI in the Aircel-Maxis deal case.
January 31, 2018:
Supreme Court remands back to Madras High Court the pleas relating to issuance of LOCs against Karti and others.
February 16:
Karti's CA S Bhaskararaman arrested for allegedly assisting him to manage his "ill-gotten wealth" in India and abroad.
February 28:
Karti is arrested by the CBI at the Chennai airport and brought to Delhi. Delhi court sends him to one-day police custody.
March 1:
Karti sent to
five-day CBI custody
.
March 5:
Karti challenges in the Supreme Court the summons issued to him by the Enforcement Directorate in the money laundering case.
March 6:
Special court remands him to three-day CBI custody. His plea for bail in CBI case adjourned to March 9.
March 9:
Special court sends him to three more days of police custody in the CBI case.
March 12:
Special court sends Karti to
12-day judicial custody
till March 24. Declines his plea for early hearing of his bail plea. Subsequently, on the same day he moves Delhi High Court seeking bail in the corruption case.
March 13:
Delhi High Court seeks the
CBI's response
on his bail plea.
Karti's CA S Bhaskararaman
granted bail in the corruption case by special court.
March 16:
Delhi High Court reserves
order on Karti's bail plea in INX Media corruption case.
March 23:
Delhi High Court grants bail to Karti in the INX Media corruption case.
With Inputs from PTI