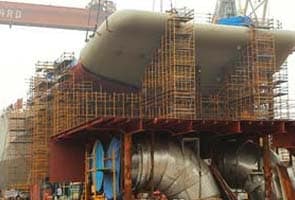 New Delhi:
India will launch its first indigenous aircraft carrier, INS Vikrant, on August 12 from the Kochi shipyard. This will make India only the fifth country after the US, Russia, Britain and France to have the capability to build such vessels.
"About 83 per cent of the fabrication work and 75 per cent of the construction work will be over when the ship goes into water," said Indian Navy's vice chief, Admiral Robin Dhowan.
The rest of the work, including the flight deck, will be completed once the ship is launched, the Navy vice chief said. The aircraft carrier is expected to be inducted into the Indian Navy by 2018.
Admiral Dhowan also said that the 40,000 tonne indigenous aircraft carrier is one of its most prestigious warship projects and unprecedented in terms of size and complexity. It has been designed by Indian Navy's design organisation.
INS Vikrant will have two take-off runways and a landing strip with three arrester wires capable of operating a STOBAR (Short Take Off But Arrested Recovery). The main stay fighters positioned on board would be Russian made MiG -29k fighter jets. The naval variant of the Light Combat Aircraft (LCA) produced by India is also scheduled to be positioned on the warship. However, it would depend on how quickly and effectively Navy variant of the LCA is produced and cleared for active duty.
While nearly 90 per cent of the body work of the aircraft carrier has been designed and made in India, about 50 per cent of propulsion system is of Indian origin and about 30 per cent of fighting capability of the warship are from India.
"It will be equipped with a long range surface-to-air missiles system with multi-function radar and close-in weapons system (CIWS)," Admiral Dhowan said.
Apart from joining a select group of nations that build aircraft carriers, the major achievement for India has been the ability to fabricate weapons grade steel. "After our initial difficulty in procuring weapons grade steel, our own laboratories were able to crack the code. Steel Authority of India is now producing the requisite quality of steel" Admiral Dhowan said.
The ability to produce weapons grade steel is a big plus since majority of Indian warships will now be produced in India.