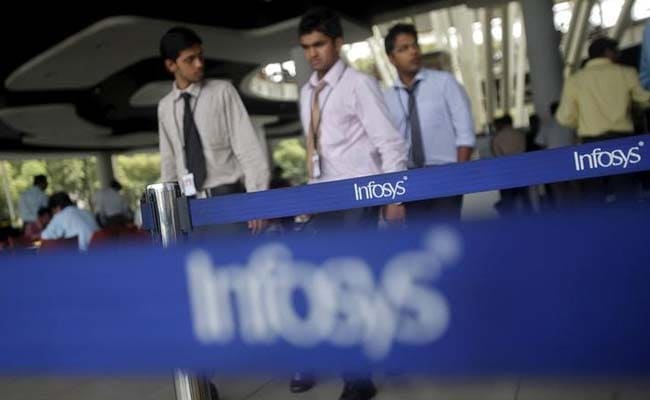 Highlights
Infosys reported better than estimated earnings for the June quarter
The IT giant raised its dollar revenue guidance for FY18
Infosys maintained its operating margin guidance for FY18
India's second biggest IT services exporter Infosys today announced a better-than-expected net profit of Rs 3,483 crore for the quarter ended June 30, 2017, helped by key client wins. Infosys revenues for the June quarter came in at Rs 17,078 crore. Importantly, Infosys raised its dollar revenue guidance, cheering the markets. Global financial services major Morgan Stanley expected Infosys to post net profit of Rs 3,335 crore on revenues of Rs 17,119 crore in the June quarter. In the March quarter, Infosys had reported a net profit of Rs 3,603 crore on revenues of Rs 17,120 crore.

Infosys raised dollar revenue guidance to 7.1-9.1 per cent for the year, against its April forecast of 6.1-8.1 per cent. Markets cheered Infosys earnings with the stock rising over 2 per cent as compared to flat broader market.

The revenue guidance hike assumes significance despite stagnant global IT spending. Global IT research firm Gartner on Thursday further lowered its 2017 IT spending growth estimate to 2.4 per cent from the 2.7 per cent earlier. The research firm had first predicted for a 3 per cent growth in worldwide IT spends, which got revised down to 2.7 per cent in January this year.

At the operating level, Infosys reported margin of 24.1 per cent vs 24.6 per cent in the March quarter. Infosys maintained FY18 revenue guidance in constant currency. At the end of the March quarter, Infosys had guided for revenue growth at 6.5-8.5 per cent for FY18 in constant currency. It had also forecast operating margin at 23-25 per cent for FY18.

The dollar revenue of Infosys, which is widely tracked by analysts and investor community, grew 3.2 per cent in reported terms and 2.7 per cent in constant currency terms sequentially to $2,651 million.


Commenting on the Q1 earnings, CEO Vishal Sikka said: "Our persistent focus on execution in Q1 is reflected in broad-based performance on multiple fronts - revenue growth, resilient margins despite multiple headwinds, healthy cash generation and overall business results. I am encouraged by the uptick in revenue per employee for six quarters in a row, and the strong momentum in our new high growth services and software, as we accelerate our focus on innovation-led growth."
Infosys said it had broad-based growth across geographical and industry segments. "Our initiatives on operational discipline led to record levels of utilization and better realization during the quarter." said COO Pravin Rao.
TCS, which reported
Q1 earnings on Thursday
, said it was optimistic about client spending on technology even as a cautious global environment and a stronger rupee dented first-quarter profit. TCS, part of the salt-to-software Tata Sons conglomerate, reported consolidated net profit of Rs 5,945 crore in June quarter.