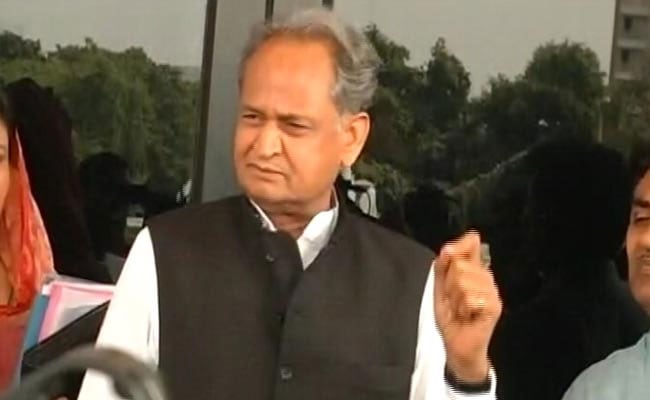 Jaipur:
Former Prime Minister Indira Gandhi had imposed the Emergency to save the country and not her chair or family, asserted senior Congress leader and former Chief Minister Ashok Gehlot yesterday.
Mr Gehlot made the assertion to refute the BJP charges that she had imposed the Emergency to save her chair and family.
"Gandhi had imposed the Emergency to save the country, and not to save her chair and family. Those levelling allegations should know that members of Gandhi family did not hold any constitutional post for the last 30 years," Mr Gehlot said at a press conference.
The people of the country had given their decision and rejected the Congress after the Emergency, but they again voted her to power barely two and half years later, he said.
As per the historical records, Mrs Gandhi had imposed Emergency on late night intervening June 25 and 26, 1975 under Article 352 of the Constitution on grounds of prevailing "internal disturbances" in the country because the Opposition parties had given a call to launch a movement to force her quit the prime ministership after the Allahabad High Court had declared her election to the Lok Sabha as null and void.
Mr Gehlot, however, blamed the BJP and its leaders for touching a new low in the politics, saying they are misleading people by their false statements and posts on the social media about former prime ministers Jawaharlal Nehru and Indira Gandhi.
Mr Gehlot said Prime Minister Narendra Modi should be proud that he is sitting on the chair which was once held by Pandit Jawaharlal Nehru.
Replying to a question on the BJP government's reported plans to introduce the "real truth of the black period" in school and college textbooks, Mr Gehlot said such decisions will only benefit the Congress.
Hitting out at the state government, he said the people of the state will teach the BJP a lesson in the assembly election due later this year. The BJP debacle from the state is imminent, which even PM Modi or BJP chief Amit Shah cannot stop, he said.
He blamed Chief Minister Vasundhara Raje for farmers suicides, sand mining, deteriorating law and order, delayed refinery project and crop loan waiver issues. He advised CM Raje to maintain dignity of the post while receiving awards from any organisation.
On a state government decision to impose 20 per cent surcharge on liquor for cow protection, he said the connoisseurs of liquor cannot see beyond it.
"Sharab ke shokeen ko sharab hi dikhti hai," he said.
He said that it was unfair to use tax collected from liquor for protection and conservation of cows and the tax could have been collected from any other sector.