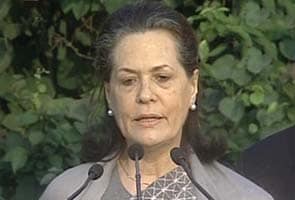 New Delhi:
With multiple scams apparently weighing on their minds, Prime Minister Manmohan Singh and Congress President Sonia Gandhi today spoke out against the "cancer of corruption" and rising "graft and greed", saying these are putting in danger the very basis of Independent India.
Singh and Gandhi, speaking at a function organised to commemorate birth anniversary of Indira Gandhi, made it clear that high economic growth had brought along with it new challenges in the march towards 'social democracy' which the country aspires for.
Observing that there was a "tide of rising expectations" accompanying high economic growth, Singh said, "we confront the challenge of revitalising institutions of development administration and getting rid of the cancer of corruption in our public life".
Gandhi said the country's economy may "increasingly be dynamic, but our moral universe seems to be shrinking... Graft and greed are on the rise. The principles on which Independent India was founded, for which a generation of great leaders fought and sacrificed their all, are in danger of being negated."
She said, "The issue of fairness is important in any democratic society. The broad mass of people must believe in the fairness of the system, if it is to survive."
Noting that she was "conscious of the gap between promise and delivery", the Congress chief said, "what we need is more effective and efficient government."
She emphasised that the country, "at many levels, needs to augment its financial and managerial capacity to deliver public goods and services better."
The remarks assume significance as these come in the backdrop of a number of scams, like in 2G spectrum allocation, Commonwealth Games and Mumbai's Adarsh Housing Society, in which allegations have been levelled against senior leaders of Congress and key ally DMK.
"We are right to celebrate our high rate of economic growth. We must do all that we can to sustain it. However, let us not forget that growth is not an end in itself. Much more important to my mind is what kind of society we aspire to be and the values on which it should be built," Gandhi said.
Singh stressed the need for "institutions and mechanisms that can deliver effectively our promise of livelihood security, the Right to Education, to employment, to food, to shelter."
However, he said, these institutions cannot be built top down as development administration was the responsibility of State governments in the federal system.
"Unless development administration is strengthened, is made more representative, accountable and transparent, allocating more financial resources from New Delhi will only contribute to higher levels of corruption and leakage of funds," Singh said.