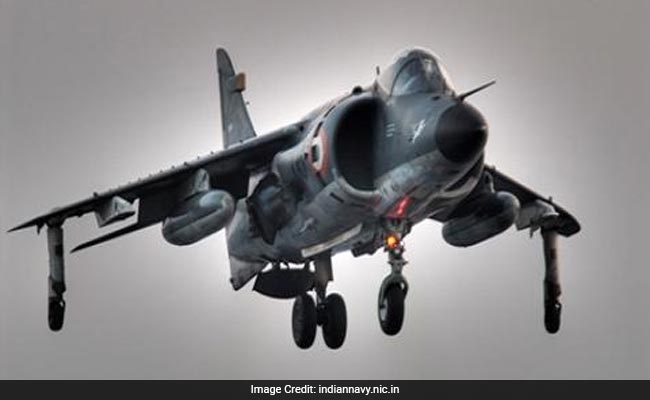 Panaji:
The Indian Navy will de-induct its ageing Sea Harriers, replacing them with MiG 29K fighter aircraft, on May 11 at INS Hansa base in Vasco at Goa.
"With the scheduled decommissioning of INS Viraat and great difficulty in maintenance of the ageing Sea Harrier fighters, they are scheduled to be de-inducted on May 11, 2016. The squadron will be operating the advanced MiG 29K fighters," the Navy said in a statement today.
Admiral R K Dhowan, Chief of the Naval Staff will be the Chief Guest for the ceremony.
Sea Harriers were inducted in the Indian Navy following phasing out of then obsolete Seahawks.
"In November 1979, post government approval, Naval HQ placed an order for 6 Sea Harrier FRS Mk 51 fighters and 02 T Mk 60 Trainers, for delivery in 1983," a naval spokesman said.
"In September 1980, Sea Harrier Project (SHARP) was formed with select naval aviators and technical personnel for coordination of trials, testing, acceptance and training. The first newly-built Sea Harrier for the Indian Navy (IN 601) was ready on December 21, 1982.
The first three Sea Harriers flying via Malta, Luxor and Dubai, led by Lt Cdr Arun Prakash VrC, landed at Dabolim on December 16, 1983. This was followed by first deck landing on the carrier, INS Vikrant, on December 20, 1983 and the arrival of the first Sea Harrier T Mk 60 trainer, on March 29, 1984," the spokesman said.
"In last few years the Harriers have added a new dimension to their operations with the increased multinational exercises in which the Indian Navy participates," the spokesman stated.