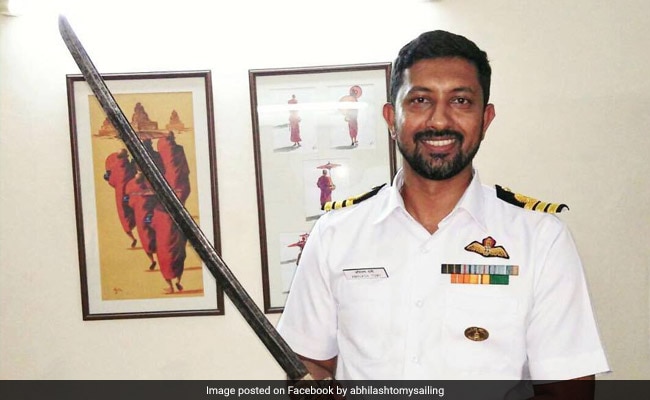 New Delhi:
Commander Abhilash Tomy of the Indian Navy, who has to his credit a solo circumnavigation of the globe, will participate in one of its kind circumnavigation race in 2018.
India will participate in The Golden Globe race for the first time, with Cdr Tomy being one of the five invitees of the event.
The race to commemorate 50 years of Sir Robin Knox-Johnston's historic 1968-69 world's first solo non-stop circumnavigation will take sailors back in time. It requires participants to use the same equipment and technology as used is 1968.
The stringent qualification standards for participating in the race say entrants must have prior ocean sailing experience of at least 8,000 miles and another 2,000 miles solo in any boat by March 1, 2018.
Cdr Tomy, who completed a solo circumnavigation in 2012-13, is one of the five people invited for the race.
The number of entrants for the race is limited to 30 and the event is already oversubscribed.
"This is the second time the Golden Globe race is happening. It requires us to use the same technology that was used in 1968," Cdr Tomy told IANS.
"There will be no GPS, no satellite phones or weather updates, we will have to follow navigation charts and stars," he said.
Cdr Tomy is not only the lone Indian to participate in the race, but the only Asian in the list of skippers.
Circumnavigation means the boat will be in open waters all the time and it cannot take any straits or canals on its way. It has to cross the equator at least once and the total distance covered in the journey should be more than 21,600 nautical miles, the circumference of earth.
Sir Robin was the first person to sail single handed and non-stop around the world between June 14, 1968 and April 22, 1969.
The race this time will start from Falmouth, Cornwall on June 14, exactly 50 years after the original race, and from the same point.
The participants will sail through the Atlantic Ocean, cross the Cape of Good Hope on the tip of Africa, across the Indian and Pacific Ocean, crossing the Cape Horn and then sailing back to the start point in the UK.
(This story has not been edited by NDTV staff and is auto-generated from a syndicated feed.)