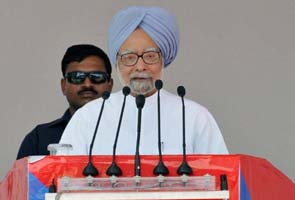 Gurgaon:
Prime Minister Manmohan Singh today said India was well positioned to become a net provider of security in its immediate region in the Indian Ocean and beyond.
He said India's defence cooperation has grown and it now had unprecedented access to high technology, capital and partnerships.
"We have also sought to assume our responsibility for stability in the Indian Ocean Region. We are well positioned, therefore, to become a net provider of security in our immediate region and beyond," Dr Singh said.
The Prime Minister was speaking after laying the foundation stone of the Indian National Defence University on the outskirts of this booming Haryana township adjacent to the national capital.
Noting that the world was witnessing change on a scale and speed rarely seen before, the Prime Minister said it was imperative for the defence professionals to remain abreast of the complex environment the country faced and the avenues that were available as a result of the enormous transition taking place in India.
"Taken together, these challenges and opportunities should prompt a reorientation of our strategic thinking and a reappraisal of our higher defence organisation... That is where this great university comes in," Dr Singh said.
He said over the last nine years, India's deterrence capabilities have also matured and have been given concrete shape.
"At the same time, we are better equipped today to deal with non-conventional threats, especially in the cyber and space domains. We are implementing a national architecture for cyber security and have taken steps to create an office of a national cyber security coordinator," he said.