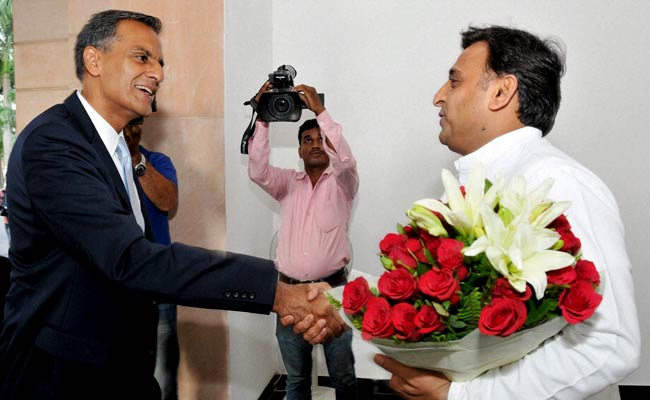 New Delhi/Hawaii:
In India, the US has gained a "critically important strategic partner" of President Barack Obama's Rebalance to Asia policy, and this growing bilateral relationship is "definitively" not directed at the "elephant in the room" China, the US envoy to India has said.
In a speech at the East-West Center, Hawaii, on the subject "An Alliance for Global Prosperity", US envoy Richard Verma said the "developments of the past year show that India is determined to emerge from its slumber as the second sleeping giant of Asia and reclaim its historical position as one of the great world powers".
In a speech devoted to India-US ties, ahead of Prime Minister Narendra Modi's visit to the US later this month, Mr Verma said: "Indian leaders have expressed a determination to leave behind the traditions of nonalignment and strategic autonomy and, in the words of Foreign Secretary S Jaishankar, to become 'a leading power'."
Mr Verma said he is "certain" that the US-India relationship would "serve as an important new buttress safeguarding open commerce and freedom of navigation in the Asia-Pacific region". He said through dialogues such as the US-India East Asia Consultations and the US-India-Japan Trilateral Dialogue both sides are "working together to promote a democratic and rules-based vision for political and economic security in Asia".
The two countries are engaging agricultural professionals from Kenya, Malawi and Liberia to improve food security in their countries by increasing crop yields using new technologies.
India's generic pharmaceutical industry and highly skilled biotechnology workforce will be essential to addressing the greatest health challenges in all countries across the economic spectrum.
Both India and the US are also exchanging findings from their Mars missions and have joined forces to advance a multi-stakeholder model of internet governance -- which are among examples to highlight the scope of the ties.
Both are also partnering in security cooperation with their militaries working together to jointly train UN peacekeepers on the ground in several African countries. Mr Verma voiced gratitude for the Indian Armed Forces evacuating US citizens from Yemen in April. Both countries are also focusing on the threat posed by radical ideologies and are planning joint strategies to address this, including by involving religious leaders, and internet providers.
On climate change, he said that despite difficulties in aligning their approaches to the issue, both leaders are aware that without US-India partnership no proposed solution can succeed, "and they believe it is the obligation of both governments to find common ground".
Mr Verma said that in the past eight months he has witnessed "transformation of the ties" between their militaries and there has been "remarkable expansion" of their bilateral training, exercises, and sales of advanced weapons systems to the Indian military. He said: "At some point in the next decade India will launch its next generation of aircraft carrier and the United States will have played a direct role in its construction."
Mr Verma said the number of Indian students applying to study in the US this year has increased by nearly 40 percent over the past year to 130,000, and they hope to increase the number of American students studying in India and to forge links between their institutions of higher learning.
On China, he said: "I know the elephant in the room is whether these transformations in our relationship with India are somehow directed at China", and added that the potential of their ties "is so much larger than developments in India's eastern neighbourhood".
"I would also note that it would be a poor strategic calculation on our part to attempt to view India as an eager rival to China," Mr Verma said, and added that India and China have coexisted for millennia with very few instances of conflict. "So no, I can definitively say that this relationship is not about any third-country, but rather arises out of a conviction that we have more to offer the world together than we do on our own."
Mr Verma said the US-India relationship is poised to become a 21st century alliance, based in Asia, working towards the goal of global prosperity.
"This partnership will protect the commons, empower the youth of our countries and the world, help maintain global peace, and further prosperity and development."