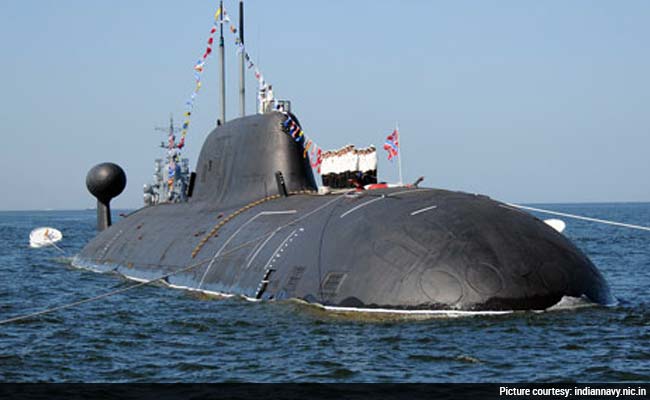 New Delhi:
The Indian Navy will soon have another nuclear submarine. The government has decided to lease a second nuclear submarine from Russia, top Defence Ministry officials have told NDTV.
Currently, India operates an 8,140-tonne Akula Class submarine - renamed the
INS Chakra
- that was leased in 2011 from Russia for a period of 10 years, at a cost of about USD 970 million. (
INS Chakra: Top 10 Must-Know Facts
)
The lease conditions allow India to fire conventional weapons only from the platform. The second leased submarine will also be the same class and is expected to come with the same conditions.
India is looking at the hull of the Iribis - a Russian Akula class submarine - that was never completed after the collapse of the Soviet Union in the early 1990s.
Yesterday, the indigenously-built nuclear powered INS Arihant started its sea trials, and is expected to join the fleet in another two years. India is in the process of building three more nuclear powered submarines. The keel of the second Arihant class submarine has already been laid. (
INS Arihant, First Made-in-India Nuclear Submarine, Begins Sea Trials
)
The decision to lease a second submarine has been taken on two counts: One with three more nuclear submarines coming up, the Indian Navy needs to train manpower. Moreover, with the Indian submarine fleet depleted, the leased submarine will also pitch in to bridge the capability gap. India has about 13 conventional submarines and one nuclear, out of which only half are available for deployment at any given time.
To protect its maritime interests, India needs a minimum of 24 submarines. However, delays in implementing the 30 year submarine plan, drawn up in 1988 which proposed to procure six submarines from the West and another six from Russia and then amalgamate the technology and come up with indigenous design, has resulted in India not having a credible sea denial capability.
Plans to buy additional Scorpene-class submarines from France were also turned down by the current government. Instead, the Government wants submarines to be made in India. The Navy has been asked to identify an Indian ship yard that can build submarines after acquiring technology from a foreign partner.