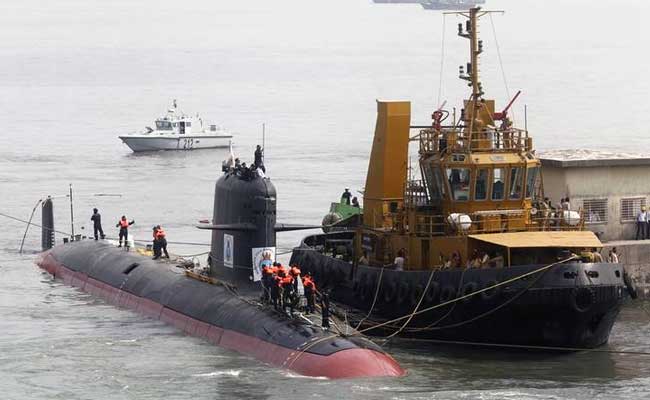 Mumbai:
India will launch the second Kalvari class submarine, named Khanderi, in Mumbai tomorrow. The ceremony at Mazgaon Dock, in which the submarine will be set afloat from the pontoons, will be attended by Union Minister of State for Defence Subhash Bhamre. This Scorpene-class submarine has superior stealth and can use guided weapons - torpedoes and tube-launched anti-ship missiles -- on enemy subs from surface or underwater. Besides warfare, its varied functions will include intelligence gathering, mine laying and area surveillance etc.
Here are the 10 facts in this big story:
The submarine will undergo rigorous trials till December, both in harbour and at sea, on surface and under water.

After the trials, she will be commissioned into the Indian Navy as INS Khanderi.

The six Scorpene-class submarines that are being built in Mumbai are part of the extensive plans to modernize the Indian Navy.

This first of the six Scorpene-Class submarines, Kalvari, will be commissioned later this year.

The other four submarines are expected follow after Khanderi at nine-month intervals.

The Navy currently has 13 ageing diesel-electric submarines, only half of which are operational at a time. The rest are unavailable due to repair works.

The 30-year plans to modernise the Navy involve the construction of 24 submarines, both nuclear and conventional.

Defence minister Manohar Parrikar has said India needs a plan with a longer term, which will cover the country till 2050. The current plan ends in 2030.

The country's first indigenously built nuclear submarine, INS Arihant - loaded with nuclear-tipped missiles and headed for sea trials this month - was commissioned in October last year.

India joined the exclusive group of submarine building nations in 1992 with the commissioning of INS Shalki.