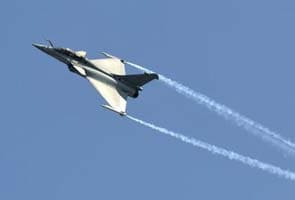 New Delhi:
India will finalise a $15 billion deal to buy 126 Rafale fighter jets from France's Dassault Aviation by March 2014, an Indian air force official said on Thursday, after the deal had been held up by differences over local manufacturing.
New Delhi picked the Rafale for exclusive negotiations in January 2012 after a bidding contest against Eurofighter Typhoon aircraft, made by a consortium involving EADS, Finmeccanica and BAE Systems.
But there were differences over the role of India's state-run Hindustan Aeronautics Ltd in manufacturing the jets.
Air Marshal S Sukumar, deputy chief of air staff, told an aerospace conference the deal would be signed within the current financial year, according to a statement issued by conference organiser, the Confederation of Indian Industry.
Under the deal, Dassault is expected to send 18 ready-made jets and would manufacture the rest in India. Hindustan Aeronautics will be its lead partner.
Dassault had earlier expressed doubts about the ability of the local partner to make such a sophisticated fighter. Hindustan Aeronautics has been developing a light combat aircraft since the early 1980s with no success so far.
A spokesman for Dassault declined to comment. The French company is still hoping to finalise the deal by the end of the 2013.
India's government wants to encourage Indian companies to partner with foreign suppliers to reduce its reliance on imports and boost a domestic defence industry that is dominated by underperforming public sector companies.
A separate tender to buy and build 56 military transport planes at an estimated cost of 119 billion rupees has been extended by two months, Sukumar also said. The Defence Ministry launched the tender in May to replace an ageing fleet of Avro jets.
The ministry had originally said the transport planes deal must be struck between a foreign supplier and an Indian private company. However, Heavy Industries Minister Praful Patel said last week that public-sector firms already making products for the armed forces should have been allowed to take part in the bidding.
The Defence Ministry has said it will look into Patel's complaint, potentially delaying the tender. Many of India's foreign arms purchases run into long delays because of accusations of corruption and bureaucratic complications.
© Thomson Reuters 2013