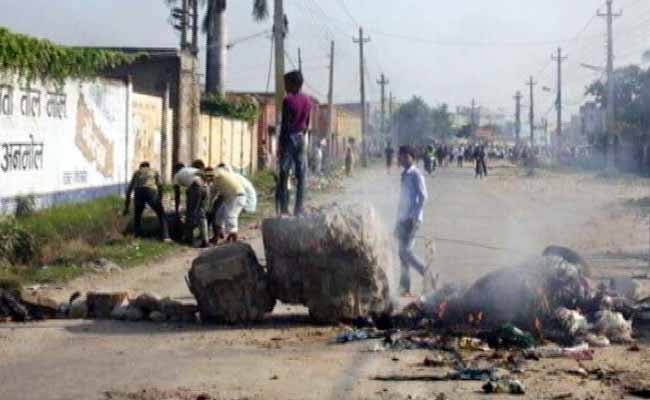 Kathmandu:
India today strongly condemned as "provocative" and "ill-intentioned" allegations that it is sending soldiers in plain clothes to Nepal amid the ongoing agitation against the new Constitution by Indian-origin Madhesis.
In a strongly worded statement, the Indian Embassy has expressed its serious concerns over the remarks made by Nepalese Minister without portfolio, Satya Narayan Mandal yesterday.
At a press meet in Biratnagar, the eastern Nepal town yesterday, Mr Mandal had alleged that India was planning to send Indian army personnel in plain clothes into Nepal.
"As India cannot send its army in uniform, so there is a chance of Indian soldiers entering Nepal in plain clothes," he had said.
The embassy said: "The comments are provocative, baseless and ill- intentioned... Coming from a responsible person holding the post of Minister in Government of Nepal, the comments are even more disconcerting and have the potential to adversely affect the cordial relations between India and Nepal."
The minister's remarks came on the same day when an Indian youth was killed during a police firing as anti-constitution protests intensified in Birgunj near Raxaul and two Indian nationals were nabbed by the Nepalese security personnel from the site of the demonstration.
Prime Minister Narendra Modi yesterday expressed "shock" over the unfortunate killing of the Indian and requested for details from his Nepalese counterpart KP Oli during their telephonic conversation even as India summoned Nepal's envoy over the incident.
The embassy said it "strongly condemns" these comments, and urged all responsible persons to refrain from doing or saying anything that may negatively impact on the age-old ties between the two neighbouring countries.
"India seeks peace, stability and prosperity for people of Nepal and it has consistently supported the government and people of Nepal in their efforts to attain these objectives, and shall continue to do so," the statement said.
Madhesis, the Indian-origin inhabitants of Nepal's Terai region, are protesting division of their ancestral homeland in the new Constitution. The agitation close to the main trading point near Raxaul has halted supply of essential goods, causing acute shortage of fuel in Nepal.
Over 40 people have died in the violent agitation that has also overwhelmed Indo-Nepal ties as transit of goods and fuel to the Himalayan nation from India via the major border trading points has been badly affected.