New Delhi:
Highlights
Sikh pilgrims travelling in Pakistan since April 12
Indian High Commissioner not allowed to visit Gurdwara Panja Sahib
India lodges strong protest against "inexplicable diplomatic discourtesy"
India has lodged a strong protest with Pakistan after 1,800 Sikh pilgrims, who are on a visit there under a bilateral agreement on religious to tourism, were not allowed to meet Indian embassy officials on three occasions. The diplomatic row comes weeks after Pakistan accused India of harassing its diplomats and their families in Delhi. Calling it an "inexplicable diplomatic discourtesy", India said its High Commission in Pakistan was effectively stopped from "performing basic consular duties for Indian citizens".
On April 12, Indian officials were stopped from meeting the Sikh pilgrims when they reached Wagah -- the first station when a train crosses over to Pakistan.
Two days later, Indian officials were not allowed to enter the Gurdwara Panja Sahib, where a meeting with the pilgrims was scheduled. The Indian High Commissioner, who was to visit Gurdwara Panja Sahib, was suddenly asked to return mid-way, for unspecified "security" reasons, the MEA said in the statement.
Giving the details, the ministry of External Affairs said it is a "standard practice" to attach consular or protocol teams with visiting pilgrims, so they can help out in case of "medical or family emergencies". "However, this year, the consular team has been denied access to Indian Sikh pilgrims," it said.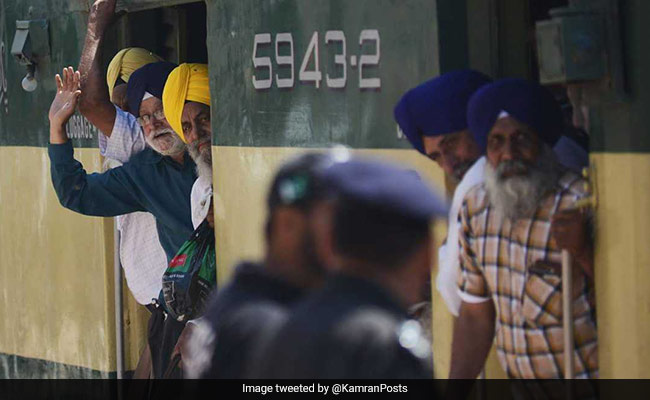 More than 2,000 Sikhs from India are visiting the shrines in Pakistan on the occasion of Baisakhi - which marks the 320th birth anniversary of the Khalsa. Hasan Abdal's Panja Sahib Gurudwara and Nankana Sahib are among the biggest shrines. The visits take place under the agreement signed between the two nations in 1974.
Last month, India denied visa to 500 Pakistan nationals who wished to visit Ajmer Sharif, the darga of the famous Sufi saint Moinuddin Chisti.
The move came with a new low in the ties between the two nations following allegations of harassment of diplomats, New Delhi said its officials in Islamabad were aggressively followed and abused when they were out shopping. At one instance, two men on a bike had chased a diplomat and his family.
Earlier this month, Pakistan alleged its diplomatic staff and their family were being harassed in Delhi and said it was recalling its High Commissioner Sohail Mahmood.
Objecting to Islamabad's tactic of going public with the information, the government said Indians in Pakistan were facing "tremendous harassment for long, particularly in the last year" but rather than flagging it to the media, they were tackling the matter with "quiet and persistent diplomacy".
Get the latest election news, live updates and election schedule for Lok Sabha Elections 2019 on ndtv.com/elections. Like us on Facebook or follow us on Twitter and Instagram for updates from each of the 543 parliamentary seats for the 2019 Indian general elections.