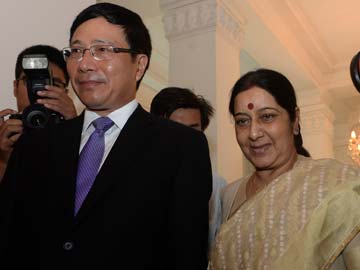 New Delhi:
India is assessing whether to explore oil in five blocks in the South China sea, on the invitation of Vietnam, a crucial and strategically located south east Asian friend, the Ministry of External Affairs (MEA) has said.
External Affairs Minister Sushma Swaraj is on a three-day visit to Vietnam starting today.
China lays claim to most of the South China Sea, but MEA Spokesperson Syed Akbaruddin said Vietnam says these five blocks are in its waters. Hanoi made the offer for exploration to New Delhi in November last year and the latter is assessing data.
Sources said India believes some of these oil wells could be extremely productive and is inclined to take up exploration, though no agreement has been signed yet.
Vietnam is fighting China over maritime boundaries in the South China Sea, which is rich in resources, fishing potential and an extremely busy sea with constant commercial traffic. It looks upon India as a friend and a supporter on disputes with China.
Ms Swaraj's visit is expected to focus on economic and defence ties. In September President Pranab Mukherjee will visit Vietnam and NDTV has learnt that during this visit he will officially extend a 100-million-dollar line of credit in the defence sector.
With that credit Vietnam can buy two or three patrol vessels, though the country has a much longer wishlist. It wants surveillance equipment, unmanned aerial vehicles, tanks, ships and the Brahmos, a cruise missile.
Defence experts believe the 100-million-dollar credit is small, but is a foot in the door and big message to China which is expected to be upset over it. China considers south east Asia to be its area of influence.