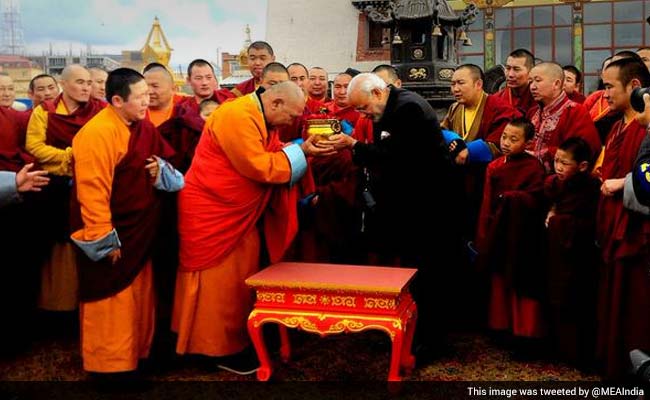 Ulan Bator:
Prime Minister Narendra Modi today told his Mongolian counterpart Chimed Saikhanbileg that "India is privileged to be considered as Mongolia's spiritual neighbour." Mr Modi, who flew in to the Mongolian capital of Ulan Bator last evening after wrapping up his China visit, is the first Indian Prime Minister to visit the country.
"It is a special privilege to come on the occasion of two important milestones that unite us, 25 years of democracy in Mongolia and 60 years of diplomatic relations between our two nations," PM Modi said at a joint press interaction with Prime Minister Saikhanbileg. Responding to Mr Saikhanbileg's remarks that India is the "spiritual neighbour and third neighbour" of Mongolia, PM Modi said, "We will always fulfil the responsibility that comes with this honour."
Earlier in the day, Mr Modi was accorded a ceremonial welcome at the State Palace. Accompanied by the Mongolian leader, PM Modi took the salute by the red and blue liveried armed forces.
The State Palace or Government House, built in the 1950s, is where the Mongolian president, parliament speaker and prime minister work from.
It also houses the parliament hall. The State Palace also houses a statue of Genghis Khan.
A rare honour was bestowed on PM Modi as the Mongolian Parliament which, for the first time, allowed a foreign leader to address the members on Sunday, a holiday.
After his address, PM Modi will meet President Elbegdorj, who will also host a banquet in his honour.
The visit will also see the laying of foundation stone for the Information Technology Centre.