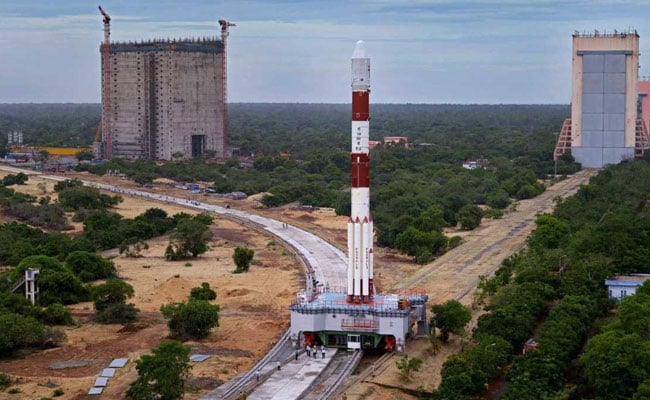 Chennai:
With the size of earth observation satellites reducing and the future trend moving towards a constellation of small satellites rather than a large one, India's space agency is developing a smaller rocket that can carry satellites weighing up to 500 kg, a senior official said.
India currently gets contracts to launch small satellites largely weighing less than 500 kg and a smaller rocket would be sufficient, he added. He also said 2018 will be an eventful year for the Indian space agency with several notable launches being lined up.
"Owing to advancement in technology, the mass of satellites is coming down -- including that of communication satellites. A lot of start-ups are building small satellites and they would like to put one in orbit at a lower cost," K. Sivan, Director, Vikram Sarabhai Space Centre (VSSC), a part of the Indian Space Research Organisation (ISRO), told IANS.
According to Mr Sivan, the preliminary design for the proposed four-stage rocket that would weigh around 100 tonnes is ready and its feasibility study has also been conducted. Mr Sivan said the first rocket would be ready in two years once the project gets the necessary approvals.
At present ISRO gets contracts from foreign organisations to carry small satellites. These are largely carried piggy-back whenever India launches a bigger satellite for its own use with the rocket Polar Satellite Launch Vehicle (PSLV).
The PSLV rocket has three variants weighing between 230 tonnes and 320 tonnes, with a carrying capacity ranging between 1,100 kg and 1,900 kg.
Mr Sivan said a smaller rocket will be sufficient to tap the small satellite segment.
Looking forward to 2018, Mr Sivan said it is going to be an eventful year with several launches, including the country's second Chandrayaan moon mission.
Mr Sivan said ISRO will be launching a Cartosat satellite and several foreign satellites as piggy-back with the PSLV rocket some time in January 2018.
He said the country's heaviest communication satellite -- the GSAT 11, weighing over five tonnes -- would be launched next year by Arianespace's Ariane rocket.