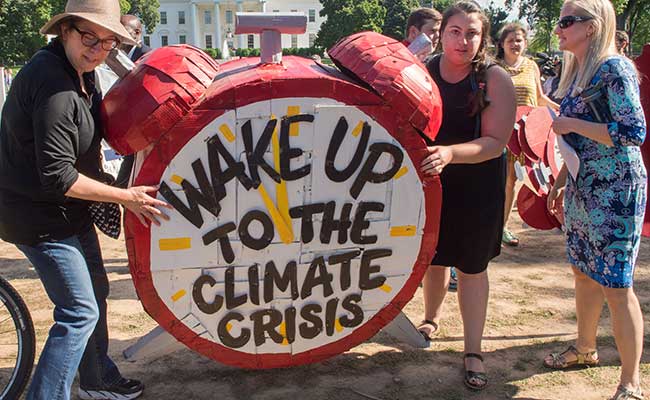 New Delhi:
India is committed to the Paris Climate Agreement irrespective of what other nations decide, said the Centre said today, hours after
President Donald Trump announced that the United States will pull out of the Paris Climate Accord
. "Our government is committed irrespective of the stand of anyone, anywhere in the world. It has been the stand of Prime Minister Narendra Modi," said Environment Minister Harsh Vardhan, stressing that Prime Minister Narendra Modi had provided "leadership" at the Paris summit.
Expressing similar views, Power Minister Piyush Goyal in a statement said, "India under [Prime Minister Narendra] Shri Modi's leadership has taken up renewable energy as an article of faith and is steadfast on its Paris commitments, irrespective of what others do."
"India's resolve to take up the leadership of saving the planet from climate change while others abrogate their leadership," he said, further adding that India has led the focus on Sustainable lifestyles in Paris agreement.
On Thursday afternoon, President Donald Trump announced that the United States is withdrawing from the landmark climate agreement, alleging that it presented a
better deal to "some of the world's highly polluting countries" like India and China
.
He added that US will try to negotiate a new climate deal which will be "fair" to American interests.
"We're getting out," he added, "but we will start to negotiate and we will see if we can make a deal that's fair. If we can, that's great. If we can't, that's fine."
Meanwhile, both
India and China has made it clear that it will not pull out of the Paris Climate deal, despite US exit
.
European leaders reacted with anger
after President Trump's announcement. In an exceptional step, continental Europe's three biggest economies - Germany, France and Italy - issued a joint statement in which they criticised Trump's decision and said the pact was "not renegotiable, reported
Agence France-Presse
.
Later on, President Trump spoke to several world leaders on the phone to explain the rationale behind his decision to exit the Paris climate agreement, said the White House, without divulging the names of the leaders.
PM Modi, during a joint press interaction with German Chancellor Angela Merkel
on Tuesday, had remarked that It would be a "crime" to spoil the environment for future generations and that there is an underlined the need to protect biodiversity.
In 2015, the United States, produced more than double the carbon dioxide emissions of China, and eight times as much as India.
With Agency Inputs