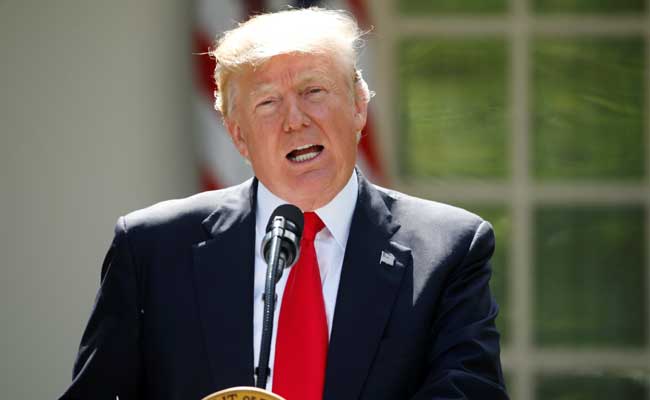 Highlights
Trump announces US exit from Paris climate deal
Says it unfairly favours 'highly polluting countries' like India, China
Says climate pact helps countries that have taken American jobs
Washington:
President Donald Trump today said the
United States will be pulling out of the Paris Climate Accord
, alleging that it gave a better deal to "some of the world's highly polluting countries" like India and China and left the US hamstrung. India, he said, "makes its participation contingent on receiving billions and billions and billions and billions of dollars in foreign aid... China will be allowed to build hundreds of additional coal mines, India will be allowed to double its coal production; we're supposed to get rid of ours".
The United States is second only to China in terms of carbon emission. But it had been President Trump's pre-election promise to "cancel" the Paris deal within 100 days of becoming president as part of an effort to boost US oil and coal industries.
Invoking his "America First"' maxim, which brought him votes from millions of white middle-class Americans last year, President Trump said, though the US was $20 trillion in debt, "under the Paris Accord, billions of dollars that should be invested here, will go to countries that have taken our jobs".
"At what point do they start laughing at us as a country? We want fair treatment," President Trump said.
India has made it clear that it will not pull out of the Paris Accord
- billed as the great hope to stop the unprecedented rise of global warming by cutting down on carbon emissions- even if the US does.
Two days ago, during his visit to Germany, Prime Minister Narendra Modi was asked by Chancellor Angela Merkel how India would respond if the US pulls out.
PM Modi indicated that Delhi will honour its commitments
, Reuters had quoted Indian officials as saying.
India had ratified the Paris Accord last year on October 2 - the birth anniversary of Mahatma Gandhi. Underscoring India's commitment to the use of clean energy, Prime Minister Narendra Modi had said even if global temperatures rise by 2 degrees, coastal areas like Kerala will be affected.
But officials had indicated that India might not be able to stick to the COP21 timeline for emission reduction, since it involves a number of industries, rules and processes -- including electricity regulation, Motor Vehicles Act, power plants and airlines.
The Paris Climate Accord can take effect only if a minimum 55 countries ratify it. At the end of last year, the number of nations that committed to do so was 61.