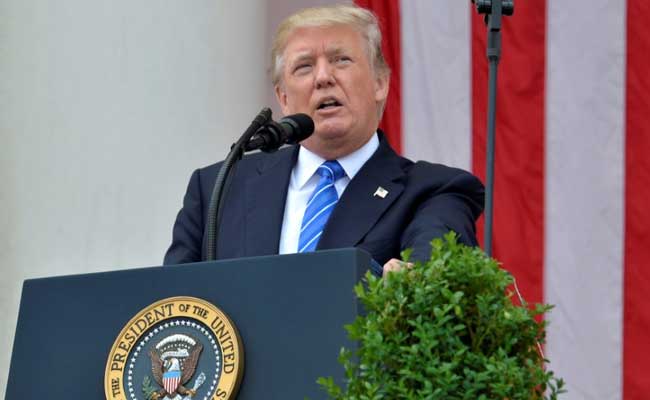 Highlights
US media reports Trump will opt out of Paris climate deal
Decision soon, Trump tweets, he had promised voters he would exit
India stand not affected by US decision, PM Modi reportedly indicates
Washington:
President Donald Trump will pull the United States out of a global pact to fight climate change, just as he pledged in his campaign, an unnamed White House official has told local media and news agencies.
The move would rally his support base at home while deepening a rift with US allies.
Trump, who has previously called global warming a hoax, did not confirm the decision in a post on Twitter, saying only, "I will be announcing my decision on the Paris Accord over the next few days."
Trump had refused to endorse the landmark climate change accord at a summit of the G7 group of wealthy nations on Saturday, saying he needed more time to decide.
Prime Minister Narendra Modi, according to news agency Reuters, told German Chancellor Angela Merkel, who championed the Paris accord, that India will not opt out even if the US does. Indian officials have not commented on whether this is true but said PM Modi indicated that Delhi will honour its commitments.
Trump had vowed during his campaign to "cancel" the Paris deal within 100 days of becoming president, as part of an effort to bolster US oil and coal industries.
The United States is the world's second-biggest carbon dioxide emitter behind China.
The decision to exit the Paris Climate Accord will put the United States in league with Syria and Nicaragua as the world's only non-participants in the Paris Climate Agreement. It could have sweeping implications for the deal, which relies heavily on the commitment of big polluter nations to reduce emissions of gases scientists blame for sea level rise, droughts and more frequent violent storms.
The accord, agreed on by nearly 200 countries in Paris in 2015, aims to limit planetary warming in part by slashing carbon dioxide and other emissions from the burning of fossil fuels. Under the pact, the United States committed to reducing its emissions by 26 to 28 percent from 2005 levels by 2025.
With inputs from agencies