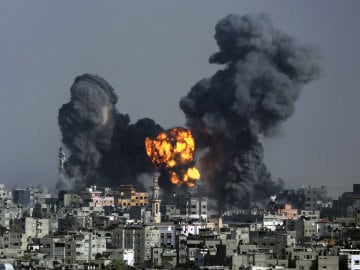 Geneva:
India has taken a strong stand against Israel by voting in support of a UN resolution to launch a probe into the country's offensive on Gaza and has condemned the "disproportionate use of force". (
Read Full Statement
)
India joined Brazil, Russia, China and South Africa to vote for a Palestinian-drafted resolution on "Ensuring Respect for international law in The Occupied Palestinian Territories, including East Jerusalem".
Supporting calls for an immediate ceasefire, India said it is "deeply concerned at the steep escalation of violence between Israel and Palestine, particularly heavy airstrikes in Gaza and disproportionate use of force on ground, resulting in tragic loss of civilian lives, especially women and children and heavy damage to property."
Top government sources defended the statement, saying India has good bilateral relationship with Israel "but on multilateral track Israel is seen as violating international norms" and India has always voted against Israel on issues of violation of international humanitarian law.
India, the sources said, gained little by supporting Israel on this, adding that it makes no sense to support a country seen as going against international norms.
New Delhi also points out that Israel has not supporting India on any international forums. "Abstention not an option, it would have been seen as change in policy towards Palestine. We don't want to undermine that," said sources.
In the 46-member human rights council, 29 countries voted in support of the resolution while 17 nations abstained.
The United States was the only nation to vote against the resolution. European countries abstained.
Over 680 Palestinians and 30 Israelis have been killed in the 16-day conflict at the Gaza Strip, with both Israel and Hamas refusing to back down.
India's strong stand at the UN comes after the government on Monday blocked in Parliament the opposition's effort to move a resolution condemning the death of women and children in Gaza, with Foreign Minister Sushma Swaraj underscoring that there was no question of taking sides when India's policy had been to maintain friendly ties with Israel while also supporting the Palestinian cause.
Get the latest election news, live updates and election schedule for Lok Sabha Elections 2019 on ndtv.com/elections. Like us on Facebook or follow us on Twitter and Instagram for updates from each of the 543 parliamentary seats for the 2019 Indian general elections.