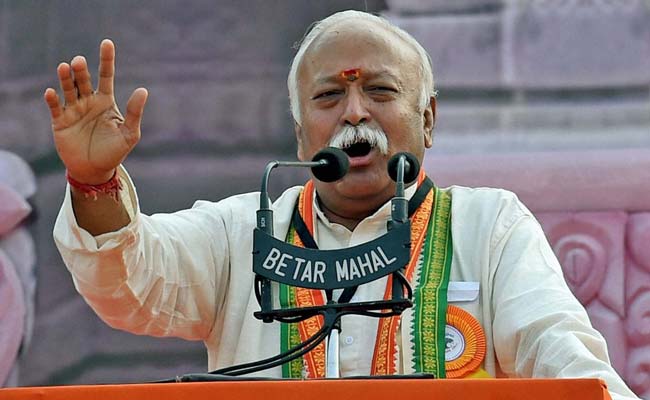 New Delhi:
The ruling BJP confronted opposition fury in Parliament today over a comment by the top leader of its ideological mentor Rashtriya Swayamsevak Sangh (RSS), describing India as a "Hindu nation" and justifying religious conversions.
"The government and the PM are running away from debate," Congress leader Anand Sharma said in the Rajya Sabha, demanding Prime Minister Narendra Modi's statement on conversions.
RSS chief Mohan Bhagwat had said in Kolkata on Saturday, "There is no need to fear. We are not intruders or infiltrators. This is our rashtra (nation), Hindu rashtra. We are trying to bring back people who have been lured away. What we have lost in the past, we will try to bring it back."
While Mr Bhagwat reiterated a stated view, his comments are poorly-timed, with the government under attack from a united opposition in Parliament over conversions in Agra and some other cities, allegedly by groups linked to the RSS.
"The House cannot function when citizens feel terrorised," Left parliamentarian Sitaram Yechury said this morning.
With just two days left in the winter session, the government is worried that opposition protests may stall its key reform - a Bill to raise foreign investment in the insurance sector - in the Rajya Sabha, where it is in a minority.
Last week, PM Modi firmly told BJP lawmakers to avoid crossing the "Lakshman Rekha" as controversial statements were hurting the party and the government's image.
The party had also asked the RSS to rein in lawmakers associated with it, finding it difficult to defend the remarks of BJP MPs like Sakshi Maharaj and Yogi Adityanath.
PM Modi and other BJP leaders are reportedly worried that these statements are detracting from the government's development agenda.
Parliament proceedings have been overrun by protests since the conversion of 57 Muslim families in Agra two weeks ago. The families said they were promised ration cards, homes and money for their children's education. On the weekend, a mass conversion event was held at Gujarat's Valsad and eight families converted in Alappuzha in Kerala.