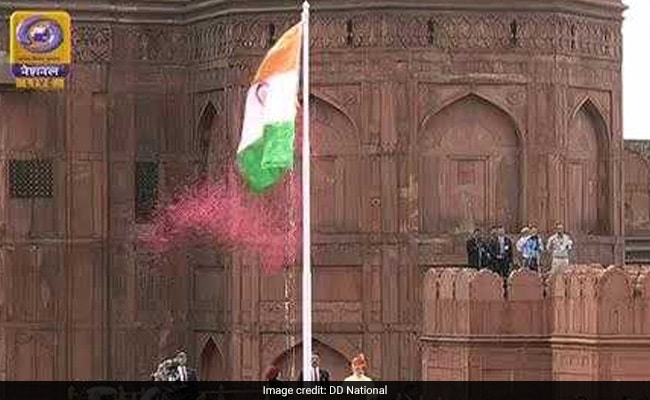 New Delhi:
Prime Minister Narendra Modi addressed the nation on the 71st Independence Day from the ramparts of Delhi's historic Red Fort. After arriving at the Lahori Gate of the 17th Century fort, the Prime Minister inspected the Guard of Honour and unfurled the national flag. On July 30, the Prime Minister had invited citizens to send him constructive ideas for his address. In his tweet, he said, "When I address the nation from the ramparts of the Red Fort on 15th August, I am merely the medium. The voice is of 125 crore Indians". He received more than 8,000 comments.
Here are the Top 10 quotes from PM Narendra Modi's address:
This is a special year - the 75th anniversary of the Quit India movement, 100th anniversary of Champaran Satyagraha, 125th anniversary of Ganesh Utsav.

In the last few days, we have had had some natural calamities in some areas of India. People of India stand shoulder to shoulder with those affected due to natural disasters and the tragedy in Gorakhpur.

We have to take the country ahead with the determination of creating a 'New India'. In our nation, there is no one big or small... Everybody is equal. Together we can bring a positive change.

January 1, 2018, will not be an ordinary day. Those born in this century will start turning 18. They are Bhagya Vidhatas of our nation.

We have to change this 'Chalta Hai' (anything goes) attitude. We have to think of 'Badal Sakta Hai' (things can change). This attitude will help us as a nation.

GST has shown the spirit of cooperative federalism. The nation has come together to support GST & the role of technology has also helped... Good governance is about speed and simplification of processes.

Violence in the name of 'Astha' (faith) is not something to be happy about, it will not be accepted in India.

India's stature in the world is rising. The world is with us in fighting the menace of terror. I thank all nations helping us doing so.

We have to work for the progress of Jammu and Kashmir. Neither with foul language and abuses, nor with the bullet -- Kashmir's problems can only be solved by embracing Kashmiris.

There is no question of being soft on terrorism or terrorists.